The Myths and Ethoses That Promote and Sustain War as a "Way of Life" and Acceptable Moral Code for the USA
Reflections on the Myths and Ethoses That Promote and Sustain War as a "Way of Life" and Acceptable Moral Code for the USA
BAnthony J. Marsella, Ph.D. – TRANSCEND Media Service
19 Feb 2018 – The United States of America is a culture of war! No claims, arguments, or wishes to the contrary can change this fact! The unassailable truth is that the USA is a culture of war! A culture of war is a shared set of meanings and behaviors that are socialized by macrosocial and microsocial institutions via support for certain cultural myths and ethoses that present war and associated acts of violence and aggression as an acceptable action for pursuing domestic and national goals and purposes (Read: D. Adams, 2009, The History of the Culture of War, NY: www.david@cpnn-world.org; Read: Anthony J. Marsella, 2011, The United States: "A Culture of War," International Journal of Intercultural Relations, 35, 714-728).
The United States of America — as a nation, as a group of societies and cultures — has engaged in war since the early Seventeenth Century when Europeans first came to its shores. The political, judicial, economic, societal, cultural, educational, and, in many instances, religious institutions of the United States of America have all contributed to fostering, promoting, and sustaining a culture of war. These socializing institutions have been informed by myths and cultural ethoses.
Unfortunately, far too many USA citizens who are aware of this tragic reality are too often proud of it, benefit from it, and/or sanction it. For them, war with all of its "patriotic" portrayals is seen as something glorious and perhaps even a necessary reality. What is also unfortunate, however, is that far too many USA citizens who do not accept this reality, end up encouraging and facilitating its continuation through ignorance, silence, passivity, and a comfortable pre-occupation with the new "opiates" of our times and place (i.e., competitive sports at all levels, TV and music entertainment, consumerism, and celebrity culture).
Jus Ad Bellum – "Just War"
There are Americans who claim that our wars are "just." Jus Ad Bellum — the argument for a "just war" — is however, in my opinion, the most dangerous rationalization that can be made since this argument can be used to authorize any nation or group to use war to support its particular interests. Think about it! The presence of a "model" nation justifying war offers a reason for others to use war. They find in our actions the right — legal and moral — to engage in war, violence, force, aggression, or other acts of hostility.
When the USA claims that it was justified to invade Afghanistan, Iraq, and Libya to protect its national political and economic interests, it makes it possible for other nations and groups to use similar arguments for invasion, occupation, and oppression. Dictators can constantly turn to the USA as a model for their actions. The "war on terror" that has assumed primacy in our domestic and international policies and actions is a "foolish" term, policy, and act that fails to acknowledge that terrorism has existed throughout human history whenever a group of people or a nation chooses to respond with violence toward those identified as their enemies. The issue here is why terrorism has been chosen as an act? Is it because one group oppresses another, abuses another, humiliates another, exploits another, seeks to annihilate another? Indeed, a fundamental question is whether terrorism under these circumstances can ever be defeated. The entire world watched as the United States attacked Iraq and executed Saddam Hussein, Iraq's despotic leader.
---
We don't need another smart phone. We need

a smarter conversation

.  Mobilized is building an empowering constructive solutions-based journalism network from the ground up. While most news is the story of disease and dysfunction, we believe that media can empower, inspire, inform, educate and enable healthier outcomes for us all.
We  are collaborators in creation of better together. 
Stay inspired and Discover how you can get involved with your vision and mission with the Mobilized Network!
---
1. The Iraq Tragedy and Debacle
The United States of America invaded and occupied Iraq under a blanket of lies regarding the presence of weapons of mass destruction (WMD) in the hands of unstable leader. There were no WMDs in Iraq, but the use of this lie was considered a sufficent justification for a full-scale war leaving tens of thousands dead, hundreds of thousands injured, and millions uprooted. The tragic consequences of the Iraq War will continue to burden the USA, the people of Iraq, and the rest of the world for centuries. It is now well known that the purposes of the invasion and occupation included the most egregious and immoral excuses for killing and destruction that the world has known, including: (1) exploitation and control of oil production; (2) regional political, economic, and cultural USA dominance; (3) support for USA's extensive military/war industry, (4) promotion of "fear" (enemification) to facilitate national and global surveillance and monitoring; (5) protection of Israel; (6) empowerment of new cooperative Iraqi leaders, (7) development of markets for USA products in exchange for oil; (8) building largest USA foreign embassy resulting in a permanent USA presence in Iraq; (9) destruction of traditional Iraqi culture in favor of popular U.S. culture; (10) satisfaction of grandiose delusions among a group of "New American Century" political neocons motivated by the pursuit of power. While the Pentagon estimates 4487 dead and 32,226 wounded, these figures do not include the hundreds of thousands of soldiers with PTSD, hearing loss, depression, breathing disorders, mild to severe brain injuries, tuberculosis, and exposures to toxic substances (e.g, see Dan Froomkin, How many soldiers were wounded in Iraq, Ask This, December 30, 2011 – froomkin@niemanwatchdog.com).
Jus Ad Bellum? It can be asked, what constitutes a "just" cause for war? The answer is that the a long history of imperialism, colonialism, westernization, global hegemony, and social and psychological exceptionalism are all part of the USA Jus Ad Bellum. Our leaders feign concern so they can have a soporific to sleep at night under the excuse of protecting national security. It is tragic that more we make war in all of its guises (military, economic, cultural), the more the world sees us for what we are, and rejects our pleas for innocence, acceptance, and approval. We must not mistake the supportive words and actions of our political allies in Western Europe to mean all is well and we can proceed on our destructive path. These allies are part of the power system that seeks global hegemony and national political and economic control — the now fabled and labeled 1%.
2. A Terrorism State? Yes!
The The United States of America has garrisoned the world with more than 750 military bases of varying sizes and military might. We support — and have supported — a score of dictators in the Middle East, South and Central America, and Asia, who oppress their people and deny basic human rights and liberties. Consider these facts: (1) We build and sell the most horrible weapons of war across the world with impunity while dismissing the destruction they will bring; (2) we fail to punish our own citizens who have violated national and international laws; (3) we dismiss laws when it serves the narrow purposes of those in power; (4) we engage in massive and widespread illegal surveillance and monitoring of our citizens; (5) we have overthrown legal governments; (6) we export a popular culture that is crass, materialistic, self-indulgent, and committed to greed and ignorance; (7) we seek global hegemony while preaching equality and friendship; (8) we enable a violent popular culture to flourish via a vast entertainment industry that is a shaping national identity; (9) we demonize and vilify groups and nations as evil and dangerous when we are the world's dangerous nation; (10) we make war reflexively using an arsenal of the most lethal and dangerous weapons. This year — 2012 — it is estimated that the USA defense and security budgets will exceed a trillion dollars — more than all other nations in the world combined. And this is likely an under estimate. Shame!
3. A Culture of War
Who are we? We are most certainly "a culture of war," sustained by century-old myths that encourage and tolerate war under the most questionable reasons. These myths, and the ethoses they generate and inform, are a tangible and palpable danger. Today, many of the favorable USA myths are falling beneath a global recognition that we are not whom we say we are, that we are not deserving of the faith and trust placed in us as self-appointed "leader of the free world." Our legacy in this young century is scores a global fiscal collapse, an endless array of civil and international wars, and the exportation of a popular culture rooted within materialism and consumerism that has destroyed lives and natural resources.
Examples of USA Myths That Sustain War
Myths — as traditional stories and images that inform a culture's view of itself and others — are an essential part of all cultures around the world. Myths serve the powerful function of grounding a culture's worldview. Myths are beliefs, symbols, and images that construct or frame and an idealized reality about a culture with respect to its leaders, beliefs, and actions. Myths ground a culture's morality, ethnocentrism, and and basic "raison d'être" or "reasons to be." The United States of America has been sustained and justified in many of its beliefs and actions for centuries by "myths" about its superiority as a nation, government, economy, and culture. These myths are now being challenged as invalid abuses of privilege.
The USA is a Democracy: The United States of America is not a democracy! The interests of the people are now sacrificed to the interests of special interest groups whose wealth and power permits them to keep their power, especially those within the vast military-industrial-congressional-educational-media complex (Read: Marc Pilisuk & J. Rountree, 2008, Who Benefits from Global Violence and War. Westport, CT: Praeger). Further, the "assumption" that we can choose via elections our preferences in a fair and equitable manner has been sullied by the acknowledged abuses in our election system (e.g., voter ID, rigged voting machines, money for media and influence, corruption, broken promises). What is particularly sad is that the USA goes around the world preaching "democracy," while failing to value democracy at home. Yes, we can vote, but some votes are more influential than others. Yes, we can vote, but for candidates that a corrupt system empowers. Yes, we can vote, but that is no guarantee the person we elect will keep promises.
The USA Exports Democracy (and Imperialism): The United States of America claims it wishes to bring democracy to nations across the world, but in fact, the democracy we bring is often the installation of purchased leaders whose secret bank accounts are filled with tainted US dollars. The guise of exporting democracy permits the United States to establish an imperialistic presence and privilege across the world. (Read: Julia Sweig, 2006, Friendly Fire: Losing Friends and Making Enemies in the Anti-American Century. NY: Public Affairs. Read: Chalmers Johnson, 2006, Nemesis: The Last Days of the American Republic. NY: Henry Holt).
Capitalism is Good: The United States of America's capitalistic economic system perpetuates extensive wealth inequities, and it permits the exploitation of people, natural resources, and the sanctity of life. Greed dominates as witnessed by the 2008 financial collapse in which huge profits were made for a limited few using illegal and immoral venues. We promote capitalism as a way of life even as we witness its tragic consequences for our own citizens and for people around the world. It is now known, and the object of the Occupy Wall Street movements that our economy is in under the control of a small group of bankers, financial and corporate leaders, and political figures (see the Davos Faction) (Read David Rothkopf, 2008, Superclass: The Global Power Elite and the World They are Making, NY: Farrar, Strass, Giroux). The simple fact of the matter is that corporate, military, and special interest leaders have a profound impact upon domestic and foreign policy and actions in pursuit of the narrow financial interests.
Racial and Ethnic Diversity is Valued: The United States of America presents itself as a model for others to follow with regard to ethnic and racial diversity, but, in fact, many of its minorities live in poverty, and lack access to medical care, education, jobs, and personal security. Equality is absent because opportunities are denied. Racism is widespread, and is often institutionalized. Prejudice against LGBT populations is widespread. (Read: Any newspaper, watch any news show, drive through any large city). The myth is that the USA encourages diversity, but the truth is that the USA seeks cultural homogeneity using a WASP model as the ideal.
USA is Not Corrupt: The United States of America is among the most corrupt nations in the world. Money buys power and privilege in the USA as it does in other parts of the world, and this is now apparent to everyone. This is an ironic fact given that the USA constantly criticizes other nations for their corruption. USA government, business, and military ties permit widespread abuses of contracts, favoritism, cronyism, and closed networks of obligation and reciprocity. Much of this corruption occurs within the military-industrial-congressional complex (Read: Janet Wedel, 2009, Shadow Elite. NY: Basic Books)The issue is not simply corruption, but rather it is a question of power and influence being confined in a small group of people. This is reminiscent of the "Guilded Age" in the United States that existed at the turn of the 20th Century. Henry Giroux has written about this "Age" and our current situation:


This was a period in which robber barons, railroad magnates and the super-rich spread their corrupting influence throughout the political, economic and cultural landscapes – without having to deal with irritating social reforms such as Social Security, Medicare, Medicaid, child labor laws, environmental protections, affirmative action, civil rights, union rights, antitrust laws, a progressive income tax and a host of other reforms. This was a period when money flowed and privilege shaped practically all aspects of American life, making a mockery out of democracy and imposing massive amounts of suffering on the vast majority of Americans. Women could not vote and were seen as second-class citizens, blacks were treated harshly by Jim Crow policies, young people were exploited through harsh labor, education was limited to the elite, inequality in wealth and income reached extreme disparities, slums festered, and politics was corrupted by the moneyed classes (Read: Henry A. Giroux, Truthout [December 13, 2011] Surviving the Second New Age, messenger@truthout.org).

Peace (Imperialism and Empire): The United States of America constantly tries to project itself as a nation that seeks peace. The use of spin and double- talk by speakers whose faces fail to reveal their deceit can almost lead people to believe that we do seek peace. But, history reveals that the United States has willfully engaged in scores of wars across the centuries that prevent peace, and actually promote chaos, destruction, and death. Indeed, the historical trajectory of the USA reveals its clear intent to become an imperialistic global power. It reflexively turns to militarism to get what it wishes, and what is wishes is typically the economic dominance of USA corporate interests. We have pursued invasion, occupation, and control of others are national policy. We are an empire. (Read: William Blum, 2004, Killing Hope. Monroe, Maine: Common Courage Press. Read: Andrew Bacevich, 2005, The New American Militarism: How Americans are Seduced by War. NY: Oxford Press; Read:Tom Englehardt, 2010, The American Way of War, Chicago: Haymarket Books).
Citizen Rights, Secrecy, and National Security: The United States of America supports the largest and most widespread national security system in the world. It has more than a score of national security agencies, each with dozens of subgroups. This system uses both public and private organizations. The national security system targets other nations, foreign nationals, and, unfortunately, its own citizens under a blanket of mass communication surveillance, illegal acts, and assassinations. A widespread private surveillance system of personal data adds to the pool of abuses. (Read: Tim Weiner, 2007, Legacy of Ashes: The History of the CIA. NY: Doubleday. Read: Robert O'Harrow, Jr., 2005, No Place to Hide. NY: Simon & Schuster; Read: Dana Priest & Willaim Arkin, 2011, Top Secret America: The Rise of the New American Security State, NY: Little Brown; Read: Shane Harris, 2011, The Watchers: The Rise of America's Surveiilance State, NY: Penguin).Here I must call attention to the most recent news release regarding the new Whitehouse Counter-Terrrorism policy to be implemented this year. I am compelled to call attention to this because policy because of the dangers it imposes on American citizens. The plan is entitled: "Strategic Implementation Plan for Empowering Local Partners to Prevent Violent Extremism in the United States". In its own words, "The plan outlines enhanced coordination between 'local partners' including schools and community groups, and federal law enforcement, and seeks to empower communities by teaching local officials to recognize violent extremism."Wait! Does this mean that domestic, civil, and citizen groups will be trained to identify and report people whom they consider to be risks? This is training citizen spies! This is similar to what occurred in East Germany with the STASI. Is this what we have become? Is this what we are? Does this mean that civil protest – an American Constitutional and legal right, can now be considered terrorism in the eyes of these neophyte watchers? Be sure to leave a tip for al services, and never anger a teacher, clerk, or friend.
Many other myths about the United States are collapsing, and the legacies of this collapse for American society are widespread feelings of uncertainty, unpredictability, fear, confusion, and anger. The United States of America is now caught in a social upheaval of massive proportion in which many institutions, long regarded as acceptable and just, are now being contested and challenged because of their failures, limitations, and recognition of their "real" nature. The OWS protests and occupations are only one manifestation of the changes.
For many years, Americans accepted myths about America's moral stature and authority, about its superiority economic system, about its fair justice system, and about its "democratic" representational governance system. These myths empowered Americans, offering them through perceived "virtue" of their myths, a sense of exceptionalism because of their decency. Americans and America were different from others — not just different — but better. Ah, the power of myths! Hans Vailhinger, an early Twentieth Century German philosopher, wrote about the importance of myths for human behavior. In his 1911volume, Philosophies des Als Ob (Philosophy of As If), he noted that people act as if their myths or fictions are true, and this gives them certainty and predictability. Americans accepted the myths of their special status in the world, and these myths informed and shaped their identity, purpose, and meaning. Now the myths are falling. Now the myths are no longer accepted. Turmoil! Yet, these times of social upheaval and confusion can become an opportunity for building a new America that is more consistent and responsive to the realties of our times, especially our global era of interdependency with other nations, societies, and cultures.
The Socialization of a "Culture of War"
The United States of America is a culture of war which has thrived by nurturing a series of myths about its government, economic, and social system, it can now be asked how does the United States do this? In Figure 1, I propose that the United States socializes its citizens by supporting an array of ethoses that shape macrosocial institutions, which, in turn, shape microsocial institutions which, in turn, shape individual and group psyches in a complex reciprocal ecology.
Both the number and the pervasive nature of the cultural ethoses serve to inform and to shape the different levels of institutions (i.e., macro, micro), and the collective and individual psyches. An ethos is a very basic — and often unconscious – value or axiom. It can be explicit and/or implicit. Its fundamental and essential nature for constructing reality means it readily penetrates a broad spectrum of attitudes, assumptions, behaviors, and institutions that govern individual and collective actions. An ethos can guide behavior and experience to such an extent — at unconscious or subconscious levels — that the ethoses can often escape awareness and analysis.
Without addressing the individual ethoses in Figure 1, I wish to point out that the ethoses I have listed are dynamic, interactive, and reciprocal. They constitute a complex ecology that is often difficult to understand and certainly difficult to change. Indeed, addressing one ethos in isolation decontextualizes it and thus distorts its origins, nature, and dynamics. But all of this, in the end, is simply to say that in my opinion, the United States of America is a culture of war that is sustained by a history, government and political system, economy, education system, and even a moral institution system that seeks to hide its nature behind a propaganda system and a social relations system that permit it to exist, thrive, and engage in that most tragic of human acts, war.
In another essay I  address the more hopeful topic of the United States as a Culture of Peace. I guess, with some degree of hope, it could be called The USA: Jus Ad Pacem.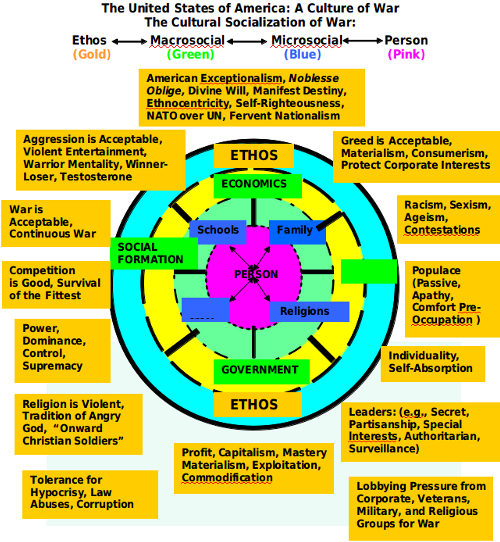 From: Marsella, A.J. (2011). The United States of America: "A Culture of War."
International Journal of Intercultural Relations, 35, 714-728
---
We don't need another smart phone. We need

a smarter conversation

.  Mobilized is building an empowering constructive solutions-based journalism network from the ground up. While most news is the story of disease and dysfunction, we believe that media can empower, inspire, inform, educate and enable healthier outcomes for us all.
We  are collaborators in creation of better together. 
Stay inspired and Discover how you can get involved with your vision and mission with the Mobilized Network!
---
_______________________________________

Anthony J. Marsella, Ph.D., a member of the TRANSCEND Network for Peace Development Environment, is a past president of Psychologists for Social Responsibility, Emeritus Professor of psychology at the University of Hawaii's Manoa Campus in Honolulu, Hawaii, and past director of the World Health Organization Psychiatric Research Center in Honolulu.  He is known internationally as a pioneer figure in the study of culture and psychopathology who challenged the ethnocentrism and racial biases of many assumptions, theories, and practices in psychology and psychiatry. In more recent years, he has been writing and lecturing on peace and social justice. He has published 21 books and more than 300 articles, tech reports, and popular commentaries. 
Source: Transcend
Screen addiction, there's still hope
Screen consumption by girls, boys and young people is rising in the scale of concern among mothers, fathers and education professionals about the risks that it entails in the mental health of this age group. Attention is the starting point and therefore there is still hope.
By Marco Trivelli, Seed Foundation, Santiago, Chile
The business objective of the applications is to generate addiction in such a way that people are interacting with the platforms for as long as possible. With more hours in front of the screen, the greater the audience to whom to expose to the publicity.
Like the gambling, tobacco, sugar, alcohol or trans fat industries, social networks have no incentive to limit consumption and face the dilemma of privileging the common good and protecting their consumers or being carried away by greed by appealing to the freedom to develop economic activities whose only limitation is not to transgress morals or good customs.
In an investigation of the prestigious Wall Street Journal newspaper carried out on the basis of studies carried out within Facebook, the largest and most powerful social network in the world, they found that there was a list of powerful characters to whom the rules of conduct were not applied and therefore the posts were not lowered or their accounts were suspended. Facebook thus avoided the bad publicity of censoring a powerful and generated traffic or views.
Famous is the case of soccer player Neymar who responded to an accusation of rape by publishing intimate images and texts on his WhatsApp without consent and which were later replicated on Facebook and Instagram. They had 56 million views before being downloaded from the web.
Internal Facebook documents also revealed the damage Instagram is doing to the mental health of millions of young people around the world. Instagram is toxic for one in three young people with an effect on eating disorders, anxiety, depression and suicides. Even when these results were generated by the company itself, Instagram defended itself by pointing out that the network did more good than bad.
The United States Congress has requested to know the internal studies carried out by Facebook as have academics and independent study centers, but the company has refused to do so, noting that the results are not conclusive. The answer turns out to be the same as other industries gave in the past.
Becoming aware that the risks of screen addiction in children and young people is decisive for their future is an excellent opportunity for the problem to be addressed in the political processes that we are experiencing in Chile. The screen requires regulation.
At Fundación Semilla we believe that self-regulation or regulation by the State is essential, but not enough. Formal and family education needs to be redesigned by offering constructive and entertaining alternatives. As a personal testimony, I can point out that the spring wind that blew on the national holiday weekend allowed us to fly a large kite together with my grandchildren. We all enjoyed ourselves and were away from the screen for an entire afternoon. Regulation and creativity gives us hope in the task of preventing screen addiction.
Marcelo Trivelli, Seed Foundation, Santiago, Chile
Saying Yes to Food Sovereignty, No to Corporate Food Systems
No to corporate food systems! Yes to Food Sovereignty!
Read or download the Political Declaration of the People's Autonomous Response to the UN Food Systems Summit
Confronting the on-going COVID-19 pandemic, climate chaos, increasing hunger and all forms of malnutrition, ecological destruction and multiple humanitarian crises, we, social movements, indigenous peoples' articulations, non-governmental organizations, and academics assert our commitment to food sovereignty, and reject the ongoing corporate colonization of food systems and food governance under the façade of the United Nations Food Systems Summit (UNFSS).
Industrial food systems, global supply chains and increasing corporate control of food governance are responsible for the inextricably interconnected and existential threats faced by our populations and planet, including the climate crisis, deforestation, loss of biodiversity, land and ocean degradation, air and water pollution, hunger, marginalization, and countless human rights violations. An extractivist development model centered on corporate control of resources, policy debates, and regulatory processes has produced a global food system that has most recently left over two billion people under-nourished and economically destitute. Furthermore, ultra-processed industrial products cause malnutrition, excess weight, and obesity. The COVID-19 pandemic continues to unveil both the structural frailties and global inequities of this corporate market-based approach – a failed model that continues due to deep power asymmetries and a lack of political accountability to ensure that public institutions and policies serve the public good and demands and needs of the most vulnerable. Urgent political actions, from local to international levels based on democratic negotiation and political consensus-building, are needed to address growing inequality across and within countries, structural injustice, gender-based violence, and displacement. The status quo is simply untenable for the majority of the world's population, and unviable for our youth and future generations. We cannot continue to divert the majority of public resources and institutional authority towards propping up false solutions that serve corporate interests and will fail to tackle these systemic global challenges.

The necessity of rights-based approaches to combating crisis
The only just and sustainable way forward is to immediately halt and transform corporate, globalized food systems. The first step on this path is fully recognizing, implementing, and enforcing the human right to adequate food, which is a human rights obligation of States and UN agencies. While foundational, the right to adequate food is indivisible from other basic human rights, such as the right to health, housing, safe working conditions, living wages, social protection, women and LGBTQIA+ rights, clean environments, and civil-political rights including collective bargaining and political participation, which collectively should be central to any transformational process. With this critical rights-based orientation, public food policy and governance must put peasants, indigenous peoples, fishers, pastoralists, workers, landless, forest-dwellers, consumers, urban and rural poor, and among these women and youth, at the center of governance and policy-making tables. Governments, and regional and international institutions, must support these constituencies' pathways for transforming corporate food systems through agroecology and food sovereignty. We reject any empty dialogue process which ignores human rights and fails to explicitly and meaningfully elevate the agency of these food systems actors.
UNFSS: illegitimate multistakeholderism enabling corporate power
The UNFSS 2021, initiated by the UN Secretary General shortly after signing a comprehensive agreement with the World Economic Forum (WEF), fails to meet these fundamental requirements. Established by 1000 of the largest corporations in the world, the WEF and its affiliates have been controlling the Summit's design, structure, processes, governance and content. Large multinational corporations are increasingly infiltrating the multilateral spaces of the United Nations to co-opt the narrative of sustainability, and divert it back into the channels of further industrialization with digital and biotechnologies, extraction of wealth and labor from rural communities, and concentration of corporate power in national-global governance. The capital and technology focused agenda proposed by the UNFSS reflects these corporate interests and is politically, socially, economically and ecologically destabilizing. We denounce the UNFSS 2021 for disregarding the urgent need to address the gross power imbalances that corporations hold over food systems and this UN event, and we reject false solutions which will continue to oppress and exploit people, communities and territories.
Instead of being grounded in human rights, the UNFSS is a multistakeholder forum in which all actors, whether governments, individuals, regional/international agencies, or business/corporation representatives are portrayed as equal participants. But stakeholders are not necessarily rights-holders: people's and communities' rights and sovereignty should not be confused with private-sector business interests. While majority of the world's food is produced by small-scale producers and workers, this individuated multistakeholder process gives outsized power to a few powerful corporations that control food, agricultural and capital markets. The so-called Scientific Group of the UNFSS impoverishes the scientific basis for responsible policy making: it advances narrow, corporate backed narratives and excludes diverse forms of knowledge and areas of expertise such as agroecology, indigenous knowledge and human rights. The lack of adequate Conflict of Interest safeguards in the Summit processes has allowed corporate-driven coalitions to position themselves as agents for implementing public policies with public resources, but without the accountability mechanisms, mandates and transparency standards of public institutions.
We will not accept this top-down, non-transparent and unequal process of deliberations that has resulted in corporate friendly "Coalitions of Action." The capital-intensive, proprietary technologies and products proposed as "game changing solutions" will be ecologically destructive, deepen extractivism, colonialism, patriarchy and inequality, and open up more areas for corporate expansion and control.
The failure of the UNFSS governance structure has been laid bare, as many 'stakeholders' are walking away from the process and no political consensus has been reached among UN member states for truly transformative pathways forward to achieve the goals of the 2030 Agenda. In this context we find it unacceptable that the UNFSS, as a non-normative process with an illegitimate governance structure, is attempting to infringe on and undermine the UN Committee on World Food Security (CFS), which is an intergovernmental system, and the foremost and most inclusive UN multilateral body for food governance, with the authority and legitimacy to lead food system dialogues and policy-making. The UNFSS does not have this authority and violates the CFS's mandate and reform statutes. We demand that the inclusive vision and processes of the CFS be recognized and strengthened. We also remind UN leadership that the UNFSS has no mandate or legitimacy beyond September 23rd, 2021, and we urge our governments to defend multilateralism, and rights-based and participatory policy-making, as established by CFS member states regarding the rules of participation of civil society organizations and social movements.
Food sovereignty for food system transformation
The struggle for sustainable, just and healthy food systems cannot be unhooked from the realities of the peoples whose rights, knowledge and livelihoods have gone unrecognized and disrespected. We have the viable solutions to address the systemic problems in our food systems. As we have demanded in our People's Autonomous Response to the UN Food Systems Summit, the transformation of food systems must be ecological and socially transformative, putting forward a feminist vision of equality and justice. Since 1996, social movements and civil society have been building a global movement and community-based processes of governance around the vision of food sovereignty, based on agroecology, and the rights and aspirations of small-scale food producers, workers, indigenous peoples, women, youth and rural-urban communities.
In this 25th year anniversary of food sovereignty, we reaffirm our unity and commitment to push for radically transformative strategies which recognize peoples' needs, accord dignity, respect nature, put people above profits, resist corporate capture, and work collectively towards a fair and decent food system for all.
La Via Campesina: The UN Food Systems Summit is hogwash. It is a threat to peoples' food sovereignty
La Via Campesina's Press Statement | September 22nd 2021, Harare:
La Via Campesina is among scores of other social movements of organized small-scale food producers, workers and indigenous people boycotting the United Nations Food Systems Summit (UNFSS), slated to take place in New York – September 23rd, 2021. Peoples' movements are united in condemning the illegitimacy of this 'summit' and in denouncing the attempt by transnational corporations to usurp the institutional spaces within the United Nations.
Civil Society and Indigenous Peoples' Mechanism (CSM) that comprise social movements including La Via Campesina has pointed out that the pre-summit events held in July are now erecting parallel governance structures. UNFSS is undermining the existing institutions and multilateral bodies responsible for developing global policy frameworks for food and agriculture. Several member states are left wondering what this Summit intends to achieve and whether its outcomes would be binding upon developing national policy frameworks. It will override the existing institutions such as the Committee on World Food Security (CFS) and forebodes a corporate takeover of the global food governance.
For sure, the global food systems must undergo a radical overhaul. Rising hunger, ecological harm from food production, including deforestation, soil degradation, loss of biodiversity, decimated fisheries, polluted waters, growing rural poverty, the continued repression of peasant and indigenous movements worldwide, displacement and climate crises – all point to the need for urgent transformation. The demand to transform the global food system and skew it in favour of small-scale food producers has been a long-standing one, stated first during the Civil Society Forum in Rome in 1996.
Yet when the Secretary-General of the United Nations announced two years ago that a Food Systems Summit (FSS) would be held in late 2021, the news was puzzling. Why did the Secretary-General initiate this food summit in partnership with the World Economic Forum – a private sector body – when the FAO hosted all the previous editions after specific mandates from the Members States? To leave no further doubt about the corporate interests driving the Food System Summit, the Special Envoy appointed for the Summit, Agnes Kalibata, is the president of Alliance for a Green Revolution in Africa (AGRA). This Gates/Rockefeller funded agency is pushing high input, high tech agriculture and GMO seeds. Founded in 2006, this Alliance has worked in 13 African countries to increase productivity for 30 million smallholder farming households by encouraging industrial farming adoption. Despite AGRA's promises of doubling crop productivity and incomes while halving food insecurity by 2020, backed by billions of donor dollars, it has been unable to provide documentation of delivering on these goals. AGRA's failures on the continent and Ms Kalibata's apparent conflicts of interest in her role as UNFSS Special Envoy resulted in broad resistance from social movements and civil society.
The farce of 'inclusiveness.'
The Summit organizers follow a multi-stakeholder approach as against a multilateral arrangement. Multilateral Summits, based on human rights, with transparent decision-making processes and accountability mechanisms, are meant to prioritize the voices of rights-holders and hold governments responsible for upholding those rights. But this "UN Food Systems Summit" is based on the idea of "multi-stakeholder" – treating all stakeholders as equal, without considering power imbalances or their position in the system. This fiction of equality leaves the powerful both unchallenged and unaccountable, hiding or ignoring any conflicts of interest. By conflating private corporate interests with the public interest, it overrides and erases the latter. To advertise "inclusiveness", it has proliferated a dizzying array of platforms, dialogues, consultations, committees, documents and forums for participation. Private citizens and governments are being drawn into these processes. Some of these are open, but many are for invited participants, bypassing and undermining autonomous, democratic organizations while favouring hand-picked individuals. The entire process lacks transparency and legitimacy. Who is making decisions? On what grounds? Who is accountable? To whom?
The guise of progressive language
In July this year, La Via Campesina was among the members of the CSM that co-organized counter mobilizations – to call out the unacceptability that has come to define this year's food systems summit. A wide variety of attendees came together and catalyzed and amplified a counter-narrative to the official proceedings. With critical articles and pieces published in major media outlets, and several thousands of #FoodSystems4People posts on social media seen by potentially 10 million users, the counter-mobilization succeeded in reaching a broad public with its vision for genuine transformation of unsustainable food systems.
This organized resistance rattled the organizers of the official Summit. In response, they have now ramped up the use of progressive language ("sustainability", "nature-positive-solutions", "planetary boundaries", "women's empowerment", etc.) and references to human rights in their documents. But the primary orientation of the FSS remains firmly rooted in the corporate interests that initiated it rather than the demands and rights of people producing food and those most impacted by current food systems. It continues to confirm a narrow range of scientific partisans data while ignoring the traditional and experiential knowledge of small-scale farmers, indigenous, peasant, and rural peoples. Digitalization, genetic modification, precision agriculture, and other chemical-, capital-, and fossil fuel-heavy approaches are taking centre stage because these so-called solutions are the most profitable to corporations (at the expense of the environment and farmers' livelihoods).
As the UN Special Rapporteur on the Right to Food notes, "Intensive industrial agriculture relies on high-input, high-output agricultural systems, dominated by large-scale specialized farms. Ever since Governments started adopting the Green Revolution in the 1950s, the world's food systems have been increasingly designed along industrial models, the idea being that if people can purchase industrial inputs – synthetic fertilizers, pesticides and carbon-reliant machines – then they can produce a large amount of food. Productivity was not measured in terms of human and environmental health, but exclusively in terms of commodity output and economic growth."
Unfortunately, the UN Food Systems Summit ignores all these warnings and continues to bat for an intensive corporate-led agricultural model that masquerades as "solutions".
Forebodings of a new global governance structure?
This Summit attacks from the front and will undermine existing global policymaking spaces and institutions like FAO and the CFS. Instead, it erects a parallel architecture to suit agribusiness interests. The Summit organizers are now encouraging stakeholders to form "coalitions of action" to implement "solutions". Governments are encouraged to develop "national pathways" with stakeholder coalitions, many of which will inevitably be dominated by those who can afford to fund them. Middle and Low-income countries are vulnerable to entering "coalitions" with investors and philanthrocapitalists, such as the Gates Foundation, to carve out "national pathways" profitable for their coalition partners.
The resistance to this parallel structure is coming from within the official Summit too. In her resignation letter (dated August 25/21), Dr Kristy Buckley, Chair of the UNFSS Governance Action Area, derided the attempts to view the global food governance "through the lens of innovation, finance, technology and data, with no regard to human rights, gender, and Indigenous Peoples". Her statement is a vindication of what social movements have been warning for a long time.
The real solution to climate crises, hunger, distress migration and extreme poverty lies with the people. It must emerge from the principles of food sovereignty and social justice. It must recognize food as a fundamental human right and not as a commodity for speculative trade. It must respect the diverse agroecological small-scale food systems that exist in our territories.
The "UN Food Systems Summit" of 2021 is an anti-thesis to these principles and threatens peoples' food sovereignty. La Via Campesina will not remain silent. The UNFSS has no mandate, legitimacy, or authority to extend beyond September 23rd, 2021. We must prevent the Summit's corporate affiliates from further embedding the multi-stakeholder structure into the UN food and agriculture agencies. Throughout this week, La Via Campesina's member organization will hold counter mobilizations in Asia, Africa and Europe. Our North American members and allies will be holding a virtual counter-summit on September 23rd to expose the real agenda behind this Summit while also presenting the elements of the radical transformation we seek in the global food systems.
Source: La Via Campesina