New Detections of 'Forever Chemicals' in New York, D.C., Other Major Cities
New laboratory tests commissioned by EWG have for the first time found the toxic fluorinated chemicals known as PFAS in the drinking water of dozens of U.S. cities, including major metropolitan areas. The results confirm that the number of Americans exposed to PFAS from contaminated tap water has been dramatically underestimated by previous studies, both from the Environmental Protection Agency and EWG's own research.
Based on our tests and new academic research that found PFAS widespread in rainwater, EWG scientists now believe PFAS is likely detectable in all major water supplies in the U.S., almost certainly in all that use surface water. EWG's tests also found chemicals from the PFAS family that are not commonly tested for in drinking water.
Source: Environmental Working Group,
New laboratory tests commissioned by EWG have for the first time found the toxic fluorinated chemicals known as PFAS in the drinking water of dozens of U.S. cities, including major metropolitan areas. The results confirm that the number of Americans exposed to PFAS from contaminated tap water has been dramatically underestimated by previous studies, both from the Environmental Protection Agency and EWG's own research.
Based on our tests and new academic research that found PFAS widespread in rainwater, EWG scientists now believe PFAS is likely detectable in all major water supplies in the U.S., almost certainly in all that use surface water. EWG's tests also found chemicals from the PFAS family that are not commonly tested for in drinking water.
Of tap water samples from 44 places in 31 states and the District of Columbia, only one location had no detectable PFAS, and only two other locations had PFAS below the level that independent studies show pose risks to human health. Some of the highest PFAS levels detected were in samples from major metropolitan areas, including Miami, Philadelphia, New Orleans and the northern New Jersey suburbs of New York City.
In 34 places where EWG's tests found PFAS, contamination has not been publicly reported by the Environmental Protection Agency or state environmental agencies. Because PFAS are not regulated, utilities that have chosen to test independently are not required to make their results public or report them to state drinking water agencies or the EPA.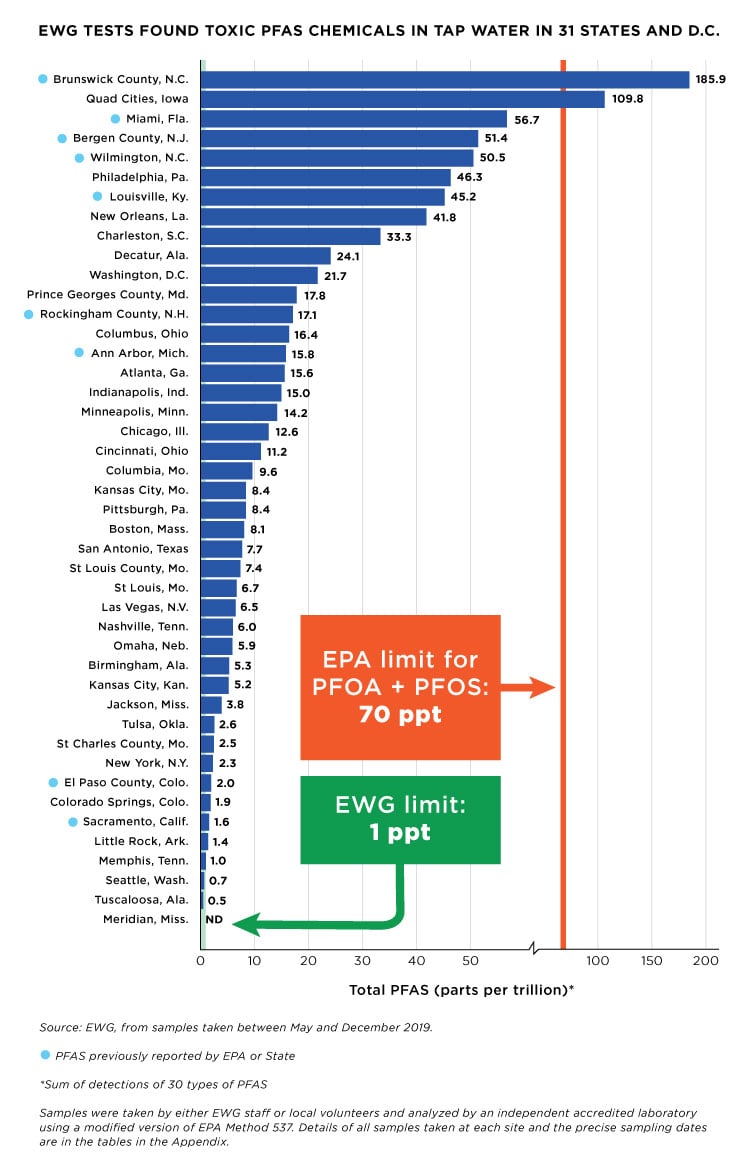 EWG's samples – collected by staff or volunteers between May and December 2019 – were analyzed by an accredited independent laboratory for 30 different PFAS chemicals, a tiny fraction of the thousands of compounds in the family of per- and polyfluoroalkyl substances. An EPA-mandated sampling program that ended in 2015 tested for only a few types of PFAS and required utilities to report only detections of a higher minimal level. The EPA also only mandated testing for systems serving more than 10,000 people, whereas EWG's project included a sample from a smaller system excluded from the EPA program. Because of those limitations, the EPA reported finding PFAS at only seven of the locations where EWG's tests found contamination.
In the 43 samples where PFAS was detected, the total level varied from less than 1 part per trillion, or ppt, in Seattle and Tuscaloosa, Ala., to almost 186 ppt in Brunswick County, N.C. The only sample without detectable PFAS was from Meridian, Miss., which draws its drinking water from wells more than 700 feet deep.
The samples with detectable levels of PFAS contained, on average, six or seven different compounds. One sample had 13 different PFAS at varying concentrations. The list of the 30 PFAS compounds we tested for, and the frequency with which they were detected, is detailed in the appendix.
'Forever Chemicals'
PFAS are known as "forever chemicals" because once released into the environment they do not break down, and they build up in our blood and organs. Exposure to PFAS increases the risk of cancer, harms the development of the fetus and reduces the effectiveness of vaccines. Biomonitoring studies by the federal Centers for Disease Control and Prevention show that the blood of nearly all Americans is contaminated with PFAS.
The most notorious PFAS compounds are PFOA, formerly used by DuPont to make Teflon, and PFOS, formerly an ingredient in 3M's Scotchgard. Those compounds have been phased out under pressure from the EPA, but they persist in drinking water, people and the environment. In EWG's tests, PFOA was detected in 30 of 44 samples, and PFOS in 34 samples. The two compounds represented approximately a quarter of the total PFAS level in each sample.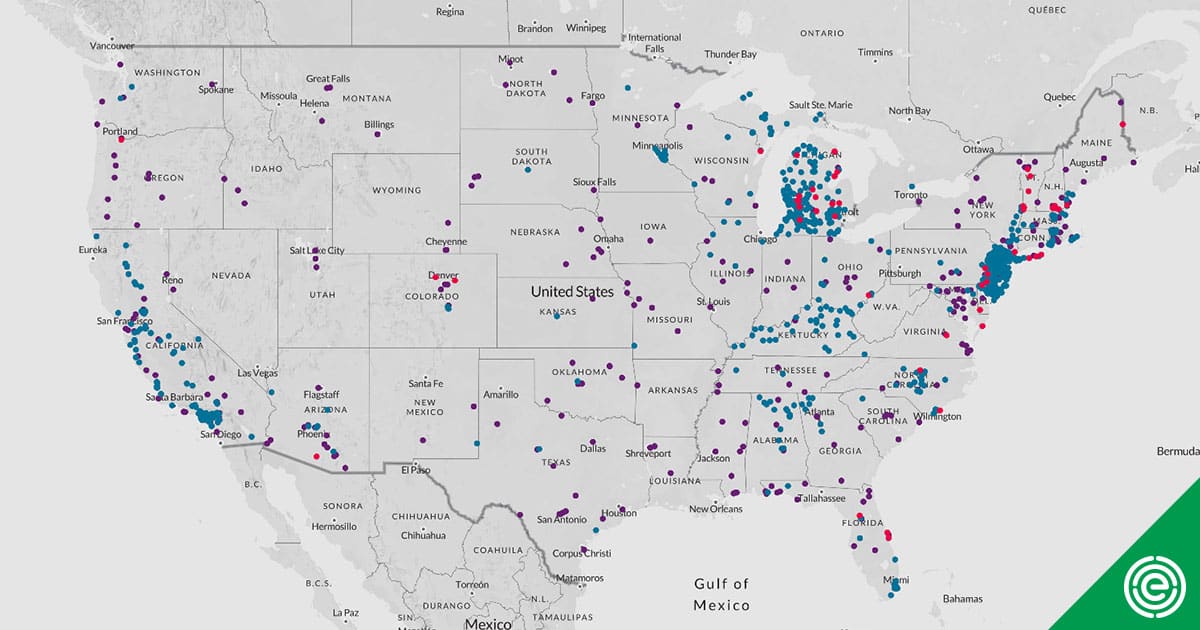 EWG has mapped PFAS contamination of drinking water or ground water in almost 1,400 sites in 49 states. Previously, our analysis of unpublished EPA data estimates that water supplies for 110 million Americans may be contaminated with PFAS – an estimate that could be much too low, based on our new findings.
The EPA was first alerted to the problem of PFAS in drinking water in 2001 but in almost 20 years has failed to set an enforceable, nationwide legal limit. In 2016, the agency issued a non-enforceable lifetime health advisory for PFOA and PFOS in drinking water of 70 ppt. Independent scientific studies have recommended a safe level for PFAS in drinking water of 1 ppt, which is endorsed by EWG.
In the absence of a federal standard, states have started to set their own legal limits. New Jersey was the first to set to a maximum contaminant limit for the compound PFNA, at 13 ppt, and has proposed standards of 13 ppt for PFOS and 14 ppt for PFOA. Some other states have now set or proposed limits or guidelines for PFAS in drinking water, including California, Connecticut, Massachusetts, Michigan, Minnesota, New Hampshire, New York, North Carolina and Vermont.
EWG Tests Uncover Contamination Missed by EPA
EWG's results are in sharp contrast to nationwide sampling by most public water systems mandated by the EPA between 2013 and 2015. In the EPA tests, 36 of 43 water systems tested reported no detectable PFAS, including New York, Chicago, Philadelphia, Boston and Washington, D.C. The EPA's Unregulated Contaminant Monitoring program included only six PFAS compounds, and the minimum reporting limits were from 10 ppt to 90 ppt, obscuring the full scope of PFAS contamination.
Since the EPA program ended there has been no further nationwide testing of public water systems for PFAS. Some states, including New Jersey, Michigan, Pennsylvania and California, have conducted additional sampling and made the results public. And some local communities, including Ann Arbor, Mich., and Wilmington, N.C., regularly test for PFAS and release the results.
But other communities have been less forthcoming with PFAS test data. The Philadelphia Water Department states that it is "proactively testing for PFAS in source water and has not detected concentrations above EPA's advisory level." EWG's tests of Philadelphia water show total PFAS concentrations at nearly 50 ppt.
Our results are meant to highlight the ubiquity of PFAS and the vulnerability of the nation's drinking water supply to PFAS contamination. They underscore what an expert at the Water and Environmental Technology Center at Temple University, in Philadelphia, said about PFAS contamination: "If you sample, you will find it."
EWG's tests represent a single sample from each water system and may not represent what is coming out of a tap today. Results from a single sample form a snapshot of what was found in tap water at a specific site. They are likely representative of the water in the area where the sample was taken but are not intended to identify specific water systems. The cities and counties listed may be served by multiple public water systems, serving various proportions of the area's population.
Stop the Spread of PFAS Contamination!
We need Washington to get PFAS out of our environment and bodies and hold polluters accountable. Can we count on you to stand with EWG?Fill out the form below to add your name to EWG's petition.
The compounds in EWG's study are a small fraction of the entire PFAS class of thousands of different chemicals – more than 600 are in active use – including the new generation of so-called short-chain PFAS chemicals. Chemical companies claim that short-chain PFAS are safer than the long-chain predecessors they replaced, but the EPA allowed them on the market without adequate safety testing, and the new chemicals may pose even more serious problems.
A recent study by a team of scientists at Auburn University reported that short-chain PFAS are "more widely detected, more persistent and mobile in aquatic systems, and thus may pose more risks on the human and ecosystem health" than the long-chain compounds. The researchers also noted that existing drinking water treatment approaches for the removal of long-chain PFAS are less effective for short-chain PFAS. Scientists at the University of Wisconsin-Madison found PFAS, primarily the shorter-chain types, in all 37 rainwater samples they collected from around the country.
Options for Drinking Water Systems To Address PFAS Contamination
There is no simple and inexpensive technology for removing PFAS from drinking water effectively. Selecting drinking water treatment options to remove PFAS typically requires a case-by-case evaluation to identify the best option and to design and install a treatment facility.
Current options for drinking water treatment technologies to remove PFAS include granular activated carbon, ion exchange and reverse osmosis. Of these, granular activated carbon, or GAC, is the most common, with many water treatment facilities already using it to remove other contaminants. The design of the GAC filter and how often the carbon is exchanged can affect performance significantly. Some of the systems tested already use GAC filters, including those serving Ann Arbor, Mich., and the Quad Cities, in Iowa. Reverse osmosis is the most effective technology, but it is also the most expensive. Ion exchange is a newer technology for PFAS removal, with a limited number of current installations.
The type of PFAS present, such as long- or short-chain, their concentrations and the potential presence of other contaminants all are factors that determine which treatment technology will be most effective or appropriate. Studies have shown that perfluorinated sulfonates, such as PFOS, are more effectively removed than perfluoroalkyl acids, such as PFOA, and that longer-chain PFAS are more effectively removed by GAC than shorter-chain.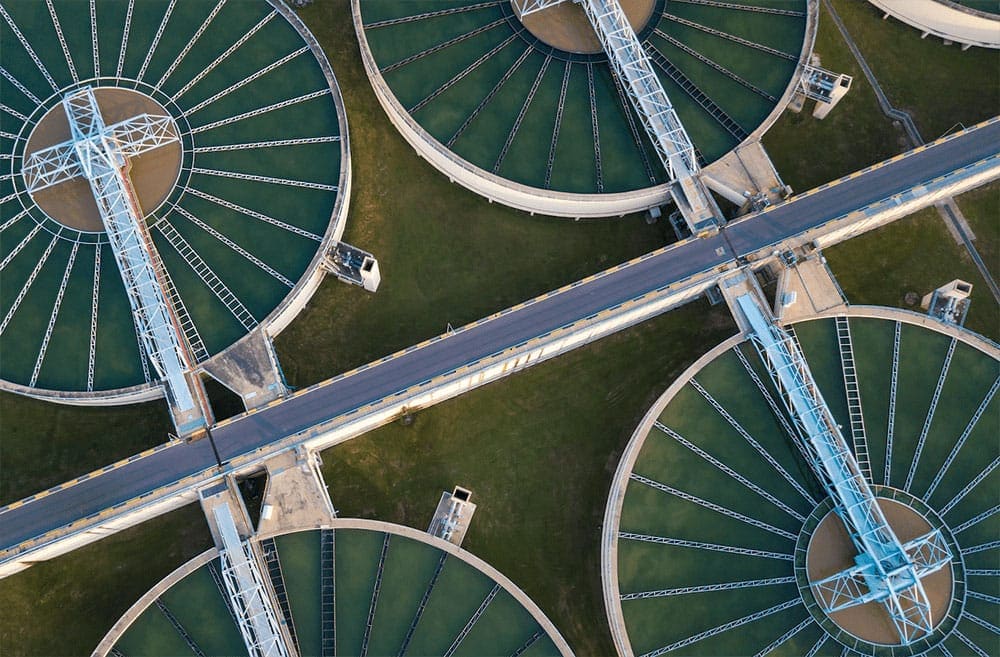 Studies have demonstrated that reverse osmosis treatment is effective for removal of all types of long and shorter-chain PFAS we tested for, including PFOS, PFOA, PFBS, PFHxS, PFHxA and PFNA. This technology can also be combined with GAC to achieve higher removal rates or maintain the efficacy of the sensitive reverse osmosis membranes. However, water-treatment-plant-size reverse osmosis systems are expensive, require significant expenditures of energy and waste a lot of water, a problem in water-scarce areas.
Operating and maintenance costs are also important components to consider as part of the design of a long-term treatment plant, as are options for the disposal of PFAS removed from drinking water. Identifying safe ways to dispose of "forever chemicals" creates a new set of challenges. Once loaded with PFAS, GAC and ion exchange resins require disposal and could end up in incinerators or landfills and create contamination issues for local communities. PFAS-loaded wastewater produced from reverse osmosis must be treated before disposal.
If PFAS Is Detected in Your Water
This project demonstrates the far-reaching PFAS contamination of U.S. drinking water, showing the urgent need for wider testing.
Judging from information from state health agencies, testing labs, and scientific researchers, the most effective choice for in-home treatment of PFAS-tainted tap water is a reverse osmosis system that combines an activated carbon filter with a reverse osmosis membrane.
Although some bottled water companies voluntarily meet industry standards for PFAS, there is no government requirement for PFAS testing of bottled water, no public information about potential PFAS contamination of water supplies that manufacturers use for production of bottled water, and no guarantee that the levels of PFAS in bottled waters are lower than those of tap water. For example, in 2019, the Massachusetts Department of Public Health advised pregnant women, nursing mothers and infants to avoid drinking certain brands of bottled water due to their high levels of PFAS contamination.
Use EWG's tip sheet to learn more about other products, materials, or activities that may be sources of exposure to PFAS in your home or local environment and how to avoid them. For more information about PFAS and what EWG is doing to combat this contamination crisis, visit our "Forever Chemicals" website.
What Policymakers Should Do
Federal and state policymakers should set science-based drinking water standards for PFAS in tap water, reduce ongoing PFAS discharges into water supplies, end non-essential uses of PFAS, require reporting of ongoing PFAS discharges into water supplies, ensure that PFAS wastes are properly disposed of, and expand PFAS monitoring efforts. Congress recently enacted legislation that will expand PFAS reporting and monitoring, but lawmakers have so far failed to set drinking water standards for most states, restrict ongoing PFAS releases into drinking water supplies, or clean up legacy PFAS contamination.
Appendix
EWG's 44 tap water samples were tested by an accredited independent laboratory, using a modified version of EPA Method 537. This table lists the 30 PFAS compounds the lab tested for, and the minimum detection limits for each one.
Guide to PFAS Chemicals
Chemical
Abbreviation
Detection limit,
parts per trillion
Perfluorooctane sulfonic acid
PFOS
0.4
Perfluorooctanoic acid
PFOA
0.3
Ammonium 2,3,3,3-tetrafluoro-2-(heptafluoropropoxy)
propanoate
GenX
0.5
10:2 Fluorotelomer sulfonic acid
10:2 FTSA
1.0
4:2 Fluorotelomer sulfonic acid
4:2 FTSA
1.0
6:2 Fluorotelomer sulfonic acid
6:2 FTSA
1.0
8:2 Fluorotelomer sulfonic acid
8:2 FTSA
2.0
4,8-dioxa-3H-perfluorononanoate
ADONA
0.3
Perfluorooctane sulfonamide
FOSA
0.5
N-ethyl perfluorooctane
sulfonamido acetic acid
N-EtFOSAA
1.0
N-methyl perfluorooctane
sulfonamido acetic acid
N-MeFOSAA
1.0
Perfluorobutanoic acid
PFBA
2.0
Perfluorobutane sulfonic acid
PFBS
0.3
Perfluorodecanoic acid
PFDA
0.9
Perfluorododecane sulfonic acid
PFDoDA
0.3
Perfluorododecanoic acid
PFDoDS
0.5
Perfluorodecane sulfonic acid
PFDS
0.6
Perfluoroheptanoic acid
PFHpA
0.4
Perfluoroheptane sulfonic acid
PFHpS
0.4
Perfluorohexanoic acid
PFHxA
0.4
Perfluorohexadecanoic acid
PFHxDA
0.3
Perfluorohexane sulfonic acid
PFHxS
0.4
Perfluorononanoic acid
PFNA
0.4
Perfluorononane sulfonic acid
PFNS
0.6
Perfluorooctadecanoic acid
PFODA
0.5
Perfluoropentanoic acid
PFPeA
2.0
Perfluoropentane sulfonate
PFPeS
0.4
Perfluorotetradecanoic acid
PFTeDA
0.3
Perfluorotridecanoic acid
PFTrDA
0.4
Perfluoroundecanoic acid
PFUnA
0.4
This table lists the number of times an individual PFAS chemical was detected in the samples analyzed, as well as those that were not detected in any sample.
Frequency of PFAS Detections by Chemical
Chemical
Number of samples where
chemical was detected

1

Range detected,

2


parts per trillion
PFOS
34
0.4-14
PFOA
30
0.4-14
GenX
6
0.5-31
6:2 FTSA
2
2.1-15
FOSA
21
0.4-1.9
PFBA
32
1.8-72
PFBS
27
0.5-5.0
PFDA
3
0.5-0.9
PFHpA
26
0.5-24
PFHxA
31
0.4-36
PFHxS
23
0.5-7.3
PFNA
10
0.5-1.9
PFPeA
31
0.5-39
PFPeS
3
0.4-1.6

Chemicals not detected in any sample


4:2 FTSA, 8:2 FTSA, 10:2 FTSA, ADONA, NEtFOSAA, NMeFOSAA, PFDoDA, PFDoDS, PFDS, PFHpS, PFHxDA, PFNS, PFODA, PFTeDA, PFTrDA, PFUnA
1 Number of detections out of 44 water samples
2 Range of concentrations for individual PFAS in samples where the compound was detected.
These tables provide details of each sample tested, including the sample collection date and the levels of individual PFAS chemicals detected in the sample.
Chautauquas and Lyceums and TED Talks, oh my!
We are aiming with Mobilized to create a vibrant forum for ideas.  "Big deal", you might say, there are already places for that.
Well, you're not wrong.  There was, in the earliest days of the web, a loose and wild forum called The Well.  The great and powerful Google had as it's mission the goal of "bringing all the knowledge of the world to every person"… before it pivoted to a new goal of just making money off of what it knows about us.  That change was a real pity.  There have been sites such as Wiser Earth, which aimed to be a global directory of people and non-profit organizations so that collaboration could happen on a larger scale than ever before.  It lasted about two years, sadly; not long enough to create a legacy.  Huffington Post had a good run in its' early days, sharing ideas widely and helping to boost its' contributors in the public's mind.
What's important to know, is that as of this writing, there is not really a widely recognized forum online or in 'meat-space'.  There are print publications such as YES! magazine, Tikkun, The Sun Magazine, and The Utne Reader, all of which which reach a population of hundreds thousands.  Great, but their reach could be even more broad, in my humble opinion.  Within social media sites there are plenty of good 'groups' but they also don't reach enough folks outside of their own memberships.
Probably the most popular comparable live events right now are the TED talks, which do serve a valuable purpose.  Sadly, they also tend toward the 'Gee-Whiz' and the 'Shiny New Buzzword' in their contents.  Mobilized really wants to focus on the proven, the existing, and the hidden.  There are already, all over, groups doing wonderful work, but too many of them are laboring in obscurity.
So, how do we do that?  Well to begin with, we're not trying to be a technology startup.  There is no secret sauce, no fancy algorithm at work here.  Almost all the underlying code behind Mobilized is made with off-the-shelf parts, such as WordPress.  There is zero reason to re-invent the wheel, and frankly the notion that one must do so has tripped up several earlier attempts at building a successful progressive community.  We take the approach of using the tools at hand to build our house.
Secondly, we are going into the future with an eye firmly on the past.  And that leads us to the point of this essay, a look at how America became America.  We can take many lessons from the past.  One of our best ideas as a nation was the Chautauqua movement.   It had it's heyday from the 1870's right up until the beginning of World War II.  In part, it helped spawn a Lyceum movement, the Vaudeville traditions in the theater world; and had an effect on the earliest days of the motion-picture industry.  Here's why it was so popular: the average person, anywhere in the land, could go to a Chautauqua when it came to their town, and engage in spirited discussion with the brightest minds of the day.  It was direct, person-to-person, and offered a mix of local and national ideas and people; presented on a rotating basis.  So ideas could be hashed out and spread rapidly.  And they did.  In no small part due to these two movements, the Robber Barons of the Gilded Age were defeated.  The Great Depression was tackled too, and along the way no less than Susan B. Anthony, Teddy Roosevelt and Mark Twain became huge fans.  No part of society could, or wanted to, ignore the notion that average people could teach other average people.
Mobilized aims to help bring that back into common understanding.  In the present era, there may well be a place for tents and lecturers setting up in farmer's fields.  There certainly is a crying need for an educational platform that is accessible to the masses.  And now, there exist enough robust tools for us to re-create the ethos of a Chautauqua on the internet.
We, the people, when it really mattered and the stakes were high, collectively taught ourselves how to better ourselves.  Now, in every corner of the world, the stakes are once again pretty high.  It is time for a new Chautauqua movement, and this one will be truly global.  So step right up, come on inside our virtual tent.  Welcome to the show.
Rethinking Democracy From the Perspective of Political Ecology
The issue of the governance of human societies immediately leads us to the issue of democracy, since the so-called democratic model is one of the pillars of modern civilization, today in crisis. Seen in historical perspective, governance — the ability to make collective decisions that are adequate to the extent that they are fair because they respond to the interests of the individuals who make them — became more complicated as societies grew in number of inhabitants and in functional complexity.
By Victor M. Toledo, originally published by Resilience.org
Ed.note: This piece originally appeared in Spanish in La Jornada, December 1, 2020
Translation into English by Jane K. Brundage
The issue of the governance of human societies immediately leads us to the issue of democracy, since the so-called democratic model is one of the pillars of modern civilization, today in crisis. Seen in historical perspective, governance — the ability to make collective decisions that are adequate to the extent that they are fair because they respond to the interests of the individuals who make them — became more complicated as societies grew in number of inhabitants and in functional complexity.
In the first extractive and agrarian societies, which make up 99 percent of the history of the human species, governance was carried out in a direct and balanced way. Governance began to become problematic with the appearance of the first cities, the State, class society and the diversity of work tasks. The democratic model, which according to E. Dussel was born not in Greece, but in Egypt and other Mediterranean cities, was defined as the power of the people in order to differentiate it from the various autocratic or despotic forms.
Today, modern governance in non-autocratic societies is generally synonymous with institutional, representative, electoral, formal or bourgeois democracy, in which decisions are made by representatives who are distantly elected by vote and usually through political parties. A good part of Western thought has forgotten or concealed the existence of another democracy, which was prior to the representative one, and which can be described as direct, participatory, radical or local. Four thousand years later, it continues to exist essentially among the planet's 7,000 villages of indigenous peoples. Today, in the presence of the crisis of modernity, it resurfaces as the basic cell for constructing an innovative governance scheme that runs up the scale from the local to the global.
Today, the supreme and greatest challenge for contemporary science is to contribute to overcoming the crisis in which the modern world is plunged and to offer clarifications, clues, alternatives. The ineffectiveness of electoral or representative democracy as a way of reaching consensus and above all,  as a way of offering solutions to the phenomena of social injustice and the deterioration and depredation of nature, requires study and research. Modern democratic systems are also highly expensive. In Mexico, the National Electoral Institute (INE) will spend a budget of 12,493 million pesos in 2021 to organize elections and sponsor political parties.
In this context, because its long civilizational history has left a current legacy of 25 million Mexicans who identify themselves as indigenous and live in thousands of traditional communities, the Mexican case provides numerous living examples of a radical and participatory democracy. There are innumerable examples in the territory, especially in those regions where an inextricable relationship survives between culture and nature, together with a vigorous defense of communal territories.
This is the case in the state of Oaxaca, where 80 percent of its 570 municipalities elect their authorities directly. Likewise, the neozapatista caracoles[1] in the state of Chiapas, and the most recent processes of self-management and self-defense in the municipalities of Cherán[2], state of Michoacán; Oxcub, Chiapas, and Cacahuatepec and Ayutla de los Libres, state of Guerrero. By the same token, keep in mind the actions of the self-defense groups of Michoacán, a project frustrated by the power of the State, and the community police still serving in 920 towns and communities within 51 of the 81 municipalities in Guerrero.
All these experiences have been ignored, vilified, despised and repressed by the national system, because they contain the seeds of a profound transformation in the ways of governing. Their subversive power extends and multiplies beyond the local and acquires regional dimensions. In the Sierra Norte de Puebla, about 250 Nahua and Totonaca communities have held regional assemblies since 2014 (they have 30) with thousands of participants in defense of their territories, their forests, their springs and their mountains. Representative democracy, which maintains and conceals social exploitation and exploitation of the natural world, is under siege.
These reflections were shared by this writer speaking at the program "Rethinking Democracy in the Current World", organized by the UNAM [National Autonomous University of Mexico]. It was a very successful event owing to the quality of the speakers and the number of those who followed the conferences virtually (ours was attended by more than 20,000 people.
For Dr. José Manuel Mireles, hero and martyr, for a true democracy.
+   +   +
Translator's notes:
[1] Caracol is the Spanish word for conch shell — long used by Mexico's indigenous peoples in ritual ceremonies. Blown into, they emit an unmistakable, hauntingly plaintiff tone that, once heard, is never forgotten. In the autonomous Zapatista communities of Mexico, caracol is the name given to its organizational regions, created in 2003 to replace the earlier organizational structure, Aguascalientes [Hot Waters]. Formed in 1995, the objective of Aguascalientes was to serve as contact points between Zapatista communities and other cultures in Mexico, and with cultures in the outside world. The Zapatista Caracoles were formed following a period of extensive discussion about the necessity of changing the traditional relation between Zapatista communities and other Mexican communities, and between Zapatista communities and the outside world.
In that sense, the objective of the caracoles is similar to its antecedent. In the Zapatistas' own words, to be "windows for us to see ourselves, and for us to look outside" with "horns [ie, conch shells, in the sense of loudspeakers] to get our word out and to listen to those who are far away." Source: Los Caracoles Zapatistas, Raúl Romero, La Jornada, August 17, 2019.   (Spanish)
[2] Cherán, an indigenous community|municipality located on the Purhépecha Meseta [Highlands] in western Michoacán, is a remarkable story of community resilience, resistance, persistence and triumph over seemingly overwhelming odds. It is all the more remarkable for having been initiated and driven by the community's women and young people. Here's a good review at the 5-year marker: Mexico Indigenous: Cherán Celebrates 5 Years of Autonomy and Dignity.
Source: Resilience
How localization leads to optimal health and well-being, hope and happiness.
At a time of rapid change, there is a better way forward. A path that leads to optimal health and well-being, hope and happiness. 
Localization.
As globalization and consolidation has changed many of the ways we live and work, it has also contributed to the depletion of resources, on-going pandemics and crises and human suffering.
For four decades, Local Futures has revitalized  communities and local economies around the world
Mobilized spent about one hour speaking with the visionary founder of Local Futures to the ideas into action for a better way forward.
"A new human story founded on connection and diversity is emerging. It's called localization."
Helena Norberg-Hodge, Founder and Director is the founder and director of Local Futures/ISEC. A pioneer of the 'new economy' movement, she has been promoting an economics of personal, social and ecological well-being for more than forty years. She is the producer and co-director of the award-winning documentary The Economics of Happiness, and the author of several books, including Ancient Futures: Learning from Ladakh, described as "an inspirational classic", and most recently Local is Our Future. She was honored with the Right Livelihood Award (or 'Alternative Nobel Prize') for her groundbreaking work in Ladakh, and received the Goi Peace Prize for contributing to "the revitalization of cultural and biological diversity, and the strengthening of local communities and economies worldwide."
---
Become a Mobilized Collaborator in Creation and help to transform the news to the stories that serve, inspire and empower our collective human potential. Sign up now to be a collaborator in creation
---
Mobilized TV on Free Speech TV  takes a deep look at our world, the consequences of human activity on our planet, and how we can reverse and prevent existing and future crises from occurring. Mobilized reveals life on our planet as a system of systems which all work together for the optimal health of the whole. The show delves into deep conversations with change-makers so people can clearly take concerted actions.
Produced by Steven Jay and hosted by Jeff Van Treese.
Mobilized's TV series Mobilized TV  premieres on Free Speech TV on Friday, October 15, 2021. All episodes appear:
Fridays 9:30 PM Eastern (USA/Canada)
Saturdays; 6:30 PM (Eastern USA/Canada)
Sundays: 8:30 AM Eastern (USA/Canada)
October 15, 16, 27
Many communities of native Americans have been subject to irreparable harm, and now there are some who are trying to indoctrinate them into their form of religion. We take a deep dive into conversation with Lakota Sioux Tribeswoman, Davidica Little Spotted Horse as she brings us up to speed of issues that should concern us all.
October 22, 23, 24
The overwhelming news being shoved down our throats on a daily basis is having a debilitating effect our our mental and emotional health. While many people seem to feel powerless, there are a lot of actions that people can take. Mobilized.news gives you a front row seat to the change that you can create in the world when we speak with Rob Moir, Executive Director of leading environmental organization, The Ocean River Institute.
October 29, 30, 31
Architect Buckminster Fuller said ""Nature is a totally efficient, self-regenerating system. IF we discover the laws that govern this system and live synergistically within them, sustainability will follow and humankind will be a success." So how can builders, architects and people in the construction industries learn from nature's design and create healthy living systems that actually work with the natural landscape and ecosystem instead of against it? Mobilized.news takes a deep dive in conversation with Nickson Otieno of Niko Green in Nairobi, Kenya.