More Renewables with Less Energy Storage: Texas Shows How
Companies in search of more renewable energy to power their growth can take heart from the example of Texas. The Lone Star State relies most heavily on natural gas and coal to generate electricity. It also has a fairly healthy nuclear sector. However, wind power has already leapfrogged past nuclear in Texas, and coal could be the next domino to fall. A new study indicates that the right balance of wind and solar power could provide for a reliable grid, without having to depend on expensive energy storage systems.
The New Texas Renewable Energy Study
The new study comes from Rice University under the title, "Assessing solar and wind complementarity in Texas." The study was performed by undergraduate student Joanna Slusarewicz and Rice professor Daniel Cohan, an environmental engineer.In a press release, Slusarewicz explained the goal of the project:
 . . . batteries remain too expensive to store Texas-sized amounts of energy for later use. "I did this project to see if there is a way, before we even start building more wind and solar farms, to distribute their current output to take advantage of differences in climate throughout the state," Slusarewicz said.
Cohan added:
…Only in the past couple of years has solar become competitive with wind. Now Texas has two strong renewable options. That's why this is the time to look at integrating these sources so they can do better than either can do on its own.
The point about energy storage is a critical one. The market for small scale, on-site energy storage is growing rapidly, but utility scale systems are still a long way from commercial viability due to their expense.Currently, pumped hydro is the only large scale, low cost storage system available in the U.S., and appropriate sites for those facilities are few and far between.
Complementarity and grid stability
"Complementarity" refers to balancing the output of solar and wind power facilities.Because wind and solar rely on natural conditions, the peak performance of wind turbines and solar panels varies considerably over time. The output can be optimal at different times of day, in different seasons, and in different regions of the same state.
The new study suggests that with the right mix of renewable energy, Texas grid operators could ensure reliability without depending on coal power, or on expensive energy storage facilities.
The researchers found that on both a yearly and daily bases, wind and solar power resources in Texas complement each other in terms of peak performance statewide.
They also found that wind resources alone also exhibit complementary peaks in production between two regions of the state, West Texas and South Texas.
Another main finding was that the highest firm capacity could be achieved by matching wind farms in West Texas with either solar power or wind farms in South Texas (firm capacity refers to the guaranteed amount of energy available at a given time).
The study concluded:
Solar farms are better suited for providing power during summertime hours of peak demand, whereas wind farms are better for winter. Taken together, our results suggest that Texas renewable power production can be made more reliable by combining resources of different types and locations.
Renewable Energy and Grid Integration
The study contributes important information that could help grid planners identify the most optimal sites — those with the most effective complementarity — for new renewable energy facilities.The finding is especially important for Texas because the grid manager for 90 percent of the state, ERCOT (the Electric Reliability Council of Texas), is a self contained unit. Fortunately for Texas, it is a large, coastal state located in the sunny southwestern U.S. It has significant solar resources as well as a substantial range of optimal performance between its inland and coastal wind farms.
Grid operators in other states have more opportunities to export or import electricity, so they don't have to rely on in-state resources to achieve a suitable balance of wind and solar.
As for Texas, the researchers point out that in the recent past, the state's primary renewable energy resource was wind. Now, the Texas solar industry is beginning to build up steam, providing a new opportunity to plan ahead for integrating both more wind and more solar into the grid.
The researchers suggest that by expanding their analysis to include more sites, enough information could be assembled for grid planners to identify the specific locations that provide for maximum complementarity.
One step ahead of you . . .
In terms of national planning, the U.S. Department of Energy already has a long term grid modernization initiative under way. One of its chief goals is to accelerate integration of renewables. Here's the money quote from the initiative's home page:
Our portfolio of work will help integrate all sources of electricity better, improve the security of our nation's grid, solve challenges of energy storage and distributed generation, and provide a critical platform for U.S. competitiveness and innovation in a global energy economy.
That is somewhat out of step with President Trump's pro-coal rhetoric and his administration's efforts to keep aging coal power plants in operation. Nevertheless, during Trump's tenure DOE has maintained a strong focus on its renewable energy mission.If you caught that item about distributed generation in the grid modernization initiative, that refers to decentralized power sources like rooftop solar and small wind arrays, including single turbines.
Trump or no Trump, businesses in search of renewable energy can look forward to less fossil power and more clean power in the future, whether it comes through a grid connection or from solar panels and wind turbines on their own property.
Image credit: Bonita de Boer/Flickr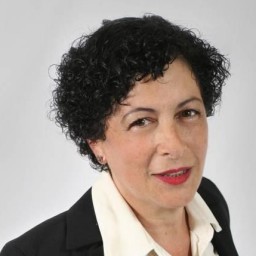 TINA CASEY
Tina writes frequently for TriplePundit and other websites, with a focus on military, government and corporate sustainability, clean tech research and emerging energy technologies. She is a former Deputy Director of Public Affairs of the New York City Department of Environmental Protection, and author of books and articles on recycling and other conservation themes. She is currently Deputy Director of Public Information for the County of Union, New Jersey. Views expressed here are her own and do not necessarily reflect agency policy.
Read more stories by Tina Casey
Source: Triple Pundit