Mind Games. Control of Consciousness and Freedom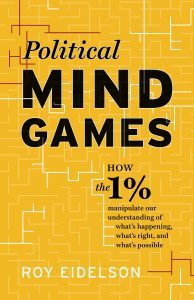 Question: Who wants to create a better system?  Media that serves, media that nourishes the soul and promotes social justice, ethics, sustainable business while empowering the collaborative nature of community to build better together?  There is another way, and it's right in front of you. It's time we get Mobilized. Please join us here.
By Roy Eidelson
It's really no secret that certain individuals and groups—the Koch brothers, Walmart heirs, some Wall Street CEOs, prominent politicians (many Republicans, and some Democrats too), big-business lobbyists, right-wing think tanks, Fox News—use their wealth and influence to pursue a self-serving agenda that betrays the common good. Indeed, they've been doing it since long before Donald J. Trump moved into the White House. But what often flies under the radar is the extent to which they rely on psychologically manipulative appeals to advance their narrow interests at the expense of the rest of us. Examples include "The dangers of global warming are overblown," "Voter fraud is a rampant injustice," "Workers protesting low wages are devious and dishonest," "We've earned every dollar and deserve your praise, not criticism," and "Everyone will be helpless if gun
reformers have their way."
In my new book, POLITICAL MIND GAMES: How the 1% Manipulate Our Understanding of What's Happening, What's Right, and What's Possible, I explain the psychology behind the success of today's plutocrats in marketing their false claims—and what we can do to counter them. Offering a research-based framework, I show how the 1% exploit five fundamental concerns that govern our daily lives: issues of vulnerability, injustice, distrust, superiority, and helplessness. These concerns are soft targets for manipulation because each is linked to a basic question we ask ourselves as we try to make sense of the world around us. Consider:
Are we safe? Whether as passing thoughts or haunting worries, we wonder if we're safe, if the people we care about are in harm's way, and if danger lurks on the horizon. Our judgments on these matters go a long way in determining the choices we make and the actions we take. But we're not particularly good at assessing our vulnerability. Among the ways that the 1% use this shortcoming to their advantage is by promoting alarmist accounts of the perils associated with change.
Are we being treated fairly? Cases of mistreatment frequently stir our anger and our desire to bring accountability to those we hold responsible. But our perceptions of what's just and what's not are far from perfect. This makes us ripe for exploitation by those eager to shape our views of right and wrong. That's a key tactic for today's plutocrats, and portraying their own selfish actions as efforts to address injustice—on our behalf—is just one of their ploys.
---
We don't need another smart phone. We need

a smarter conversation

.  Mobilized is building an empowering constructive solutions-based journalism network from the ground up. While most news is the story of disease and dysfunction, we believe that media can empower, inspire, inform, educate and enable healthier outcomes for us all.
We  are collaborators in creation of better together. 
Stay inspired and Discover how you can get involved with your vision and mission with the Mobilized Network!
---
Who should we trust? We tend to divide the world into people and groups we deem trustworthy and others we don't. When we get it right, we can avoid harm from those who have hostile intentions, while building valuable relationships with those who enhance our lives. But here too our judgments are sometimes unreliable. Among the ways the 1% exploit our doubts is by intentionally fostering distrust in order to divide the ranks of their adversaries.
Are we good enough? We're quick to compare ourselves to others, often with the hope of demonstrating that we're worthy of respect or admiration. But the impressions we have about our own worth—and the positive or negative qualities we see in other people—are intrinsically subjective. As a result, they're susceptible to manipulation. One way plutocrats capitalize on this is by insisting that those who are struggling to get by are simply inferior to the rest of us.
Can we control what happens to us? Feelings of helplessness can pose a substantial obstacle in both personal and collective initiatives. When we lack confidence in our capabilities, we're more inclined to give up and abandon our goals, and less likely to show resilience in the face of setbacks. The 1% take advantage of this inclination in several ways, including by telling us that stark inequalities are the result of powerful forces beyond everyone's control.
In responding to these questions, today's plutocrats are masters at using duplicitous mind games—like "It's a Dangerous World," "No Injustice Here," "They're Different from Us," "Pursuing a Higher Purpose," and "Don't Blame Us"—to lead us away from a more equal and more decent society. Their answers are designed to manipulate our perceptions and emotions while distracting us from careful evaluation of arguments and evidence. Rather than viewing concerns about vulnerability, injustice, distrust, superiority, and helplessness as guideposts for improving the general welfare, the 1% exploit them to advance their interests and derail effective opposition to their rule.
POLITICAL MIND GAMES was written with a clear purpose: to help inoculate the public against the 1%'s self-serving appeals. When we expose and debunk their mind games, the plutocrats' empty rhetoric loses its allure, their selfish motives are laid bare, and everyone can see clearly how a privileged few have fleeced and forsaken the country—and the people—that made their enormous wealth and power possible. In turn, this recognition lays the groundwork for the coalition-building and collective action that can restore and reinvigorate our democratic principles and commitments. POLITICAL MIND GAMES is available today.
____________________________________________

Roy Eidelson is a member of the TRANSCEND Network and was a member of the American Psychological Association for over 25 years, prior to his resignation. He is a clinical psychologist and the president of Eidelson Consulting, where he studies, writes about, and consults on the role of psychological issues in political, organizational, and group conflict settings. He is a past president of Psychologists for Social Responsibility, associate director of the Solomon Asch Center for Study of Ethnopolitical Conflict at Bryn Mawr College, and a member of the Coalition for an Ethical Psychology.
Source: Transcend
Right to Repair Bill Introduced in Congress
Hot on the heels of last week's victory in the New York state senate, the fight for Right to Repair comes to the US Congress. Today, Congressman Joe Morelle (D-NY) introduced the first broad federal Right to Repair bill: the Fair Repair Act.
"As electronics become integrated into more and more products in our lives, Right to Repair is increasingly important to all Americans," said Kyle Wiens, iFixit CEO. Lawmakers everywhere are realizing the need to protect our Right to Repair—along with progress in the EU and Australia, 27 US states introduced Right to Repair legislation this year, a record number.
"Every year I've worked on Right to Repair, it's gotten bigger, as more and more people want to see independent repair protected," said Gay Gordon-Byrne, Executive Director of Repair.org. Rep. Joe Morelle has been a champion for much of that journey, sponsoring legislation while in the Statehouse in Albany starting in 2015. Everywhere you go, people just want to be able to choose for themselves how to fix their stuff. You'd think manufacturers would wise up."
Congressman Joe Morelle's federal bill would require manufacturers to provide device owners and independent repair businesses with access to the parts, tools, and information they need to fix electronic devices.
"For too long, large corporations have hindered the progress of small business owners and everyday Americans by preventing them from the right to repair their own equipment," said Congressman Morelle. "It's long past time to level the playing field, which is why I'm so proud to introduce the Fair Repair Act and put the power back in the hands of consumers. This common-sense legislation will help make technology repairs more accessible and affordable for items from cell phones to laptops to farm equipment, finally giving individuals the autonomy they deserve."
"Right to Repair just makes sense," said Nathan Proctor, U.S. PIRG Senior Right to Repair Campaign Director. "It saves money and it keeps electronics in use and off the scrap heap. It helps farmers keep equipment in the field and out of the dealership. No matter how many lobbyists Apple, Microsoft or John Deere and the rest of the manufacturers throw at us, Right to Repair keeps pushing ahead, thanks to champions like Rep. Joe Morelle."
"At iFixit, we believe that big tech companies shouldn't get to dictate how we use the things we own or keep us from fixing our stuff." said iFixit's US Policy Lead, Kerry Maeve Sheehan. "We applaud Congressman Morelle for taking the fight for Right to Repair to Congress and standing up for farmers, independent repair shops, and consumers nationwide."
We're pleased to see Congress taking these problems seriously. In addition to supporting Congressman Morelle's Fair Repair Act, we urge Congress to pass much-needed reforms to Section 1201 of the Copyright Act, to clarify that circumventing software locks to repair devices is always legal, and to expressly support the Federal Trade Commission's authority to tackle unfair, deceptive, and anti-competitive repair restrictions.
For a healthier planet, management must change
Our environment sustains all life. Both human and wildlife. When habitat degrades, the lives of all that depend on it also deteriorate: poor land = poor people and social breakdown.By Sarah Savory, Zimbabwe
In Zimbabwe (like many other countries in arid areas with seasonal rainfall) we are facing the many symptoms and signs of our country's advancing desertification: ever-increasing droughts, floods, wildfires, poverty, poaching, social breakdown, violence, mass emigration to cities, biodiversity loss and climate change. No economy can survive if we destroy our soil – the only economy that can ultimately sustain any community, or nation, is based on the photosynthetic process — green plants growing on regenerating soil.

So, if we wanted to find out the optimum way to manage our wildlife, people and economy, logically, shouldn't we be looking at our National Parks for the best examples of what we can do for our environment? Because in national parks, we not only have the best management the world knows, we don't have any of the issues that are normally blamed for causing desertification: ignorance, greed, corruption, corporations, livestock, coal, oil, etc. Let's do that now…the following are all photos taken in our national parks (the first 3 were taken in May right after the rainy season when they should still be looking their best!)
As you can see from those photos, some of the worst biodiversity loss and land degradation we have in Zimbabwe is occurring IN our National Parks. But, as I pointed out, those have been run using the best management known to us and have been protected and conserved for decades. We've clearly been missing something…
The above 8 pictures are a mixture of National Parks and Communal Land…can you tell which is which?
We are seeing this land degradation both inside and out of our Parks because there is an over-arching and common cause of desertification that nobody has understood, or been able to successfully address, until recently.
We spend our lives blaming resources for causing the damage (coal, oil, livestock, elephants, etc) but resources are natural, so how could they possibly be to blame? Only our management of them can be causing the problem.
ALL tool using animals (including humans) automatically use a genetically embedded management framework…and every single management decision made is in order to meet an objective, a need, or to address a problem. And those decisions are made with exactly the same framework, or thought process and for exactly the same reasons, whether it is an animal or a human.
For example, a hungry otter has an objective: he wants to break open a clamshell because he needs to eat. He uses a simple tool (technology, in the form of a stone) to do so. He does this based on past experience or what he learned from his mother.
Or, the president of the United States has an objective: to put a man on the moon within a decade. He and his team use the same tool (technology, but various and more sophisticated forms of it) and base their choices on past experience, research, expert advice, and so on. It's the same process, or framework, in both cases, only the degree of sophistication has varied.
To this day, this decision making process works just fine for the otter. But imagine that one day, the otter invents a machine that can crack open 1,000 clam shells a day and that all the other otters suddenly stop doing what otters are designed to do and just come to him to get their clams. They still use the decision making process but everything else has changed…that tiny advance in technology would have inadvertently set off a complex chain reaction through the whole ecosystem and there would soon be catastrophic environmental knock-on effects because the balance of the ecosystem has been upset. The ecosystem will keep trying to adjust to this change but eventually it will start to collapse. Imagine the otter started charging for the clams. Now, with every decision the otters make, in order to make sure their ecosystem didn't collapse, they would need to be simultaneously addressing the social, environmental and economic aspects of their actions. Their management would have to evolve with the change.
This is exactly what happened to humans…As soon as our technology advanced, our management should have evolved to accommodate for it. But it didn't.
Our natural world is rapidly collapsing all around us and we have ended up constantly chasing our tails and dealing with the symptoms and complications we've created. While there have been thousands of books written over the years on different types of management, if you dig a little deeper and 'peel the onion' the same genetically embedded framework is still inadvertently being used.
In the last 400 years, our technology has advanced faster than in all of the two hundred thousand or so years of modern human existence. Over those same few centuries, you can now see why the health of our planet has entered a breathtaking decline.  We now have the knowledge to change that…
No matter what we are managing, we cannot ever escape an inevitable web of social, economic and environmental complexity, so, in order to truly address any issue, the people and the finances have to be addressed simultaneously, not just the land itself. Isolating one particular part of the problem, or singling out a species and trying to manage it successfully, is no different from trying to isolate and manage the hydrogen in water.
With this knowledge, the Holistic Management Framework was developed. And, incredibly, it all started here in Zimbabwe, by my father, Allan Savory, an independent Zimbabwean scientist. This new decision making process ensures that no matter what we are managing, we focus on the root cause of any problem. It also makes sure that all our decisions are socially or culturally sound, economically viable and ecologically regenerative by using 7 simple filtering checks. And, it introduces us to a new, biological tool: animal impact and movement, that can be used to help us reverse desertification and regenerate our land and rivers.
This framework has received world-wide acclaim and is now being mirrored in forty three Holistic Management hubs on six continents, including the first university-led hub in the USA.
Now we can begin to understand that most of the problems we are facing in Zimbabwe today are simply symptoms of reductionist management.
Imagine that one day, someone starts to beat you really hard over the head, once a day, every day, with a cricket bat. It really hurts, and instead of trying to take the bat away from them, you just take a dispirin to deal with the headache it's caused and carry on.
After a week, the pain will be getting much worse and the dispirin will no longer be strong enough, so you'd need a new painkiller. The stopain comes out. After a while, stopain won't be enough, so you turn to Brufen. And so it goes on. Yet the blows continue.
Eventually, your organs will be struggling from all the medication and you'll end up in hospital with very serious complications. The best doctors and specialists in the world are called in at great expense and they rush around treating all your worsening, and now life-threatening, symptoms. None of them can understand why you aren't getting better – they've used the best medicines and procedures known. It's because everyone is so focused on your symptoms, that nobody has looked up and seen the person standing behind you with the cricket bat.
It sounds silly when I put it like that, doesn't it? But that is exactly what we are doing.
Our planet is in that hospital with life threatening complications, with Governments, Organisations and individuals doing their best, spending millions of dollars, often using expert advice, to find out how to treat the patient, but nobody has realised that they are only treating symptoms. Nobody has noticed the guy standing there with the bat.
The holistic management framework stops the blows to the head. As soon as we do that and the cause is being treated, all the symptoms will automatically begin to heal and fall away.
I am going to show you a screen shot taken from a short video clip we took with a film crew last month, of 4 different areas, all near to each other: you will clearly see the terrible desertification in both National Parks and nearby Communal Land. In comparison, you will see a vast difference on Dibangombe, the Africa Centre For Holistic Management (our learning centre, which is only 30km from Victoria Falls.) This habitat is being regenerated for all life by simply managing holistically. Every year on this land, despite the worsening droughts, the biodiversity increases and the land and wildlife flourish.
All this footage was taken in the same area, at the same time, with the same climate, the same soils, the same wildlife and the same humans.
But different management.
These pictures were taken on the same day on land only 30km apart in February 2018, The 2 photos on the left are Zambezi National Park and the photo on the right is Africa Centre for Holistic Management (Dibangombe)
The great news is that we can turn it all around and we don't have the thousands of different problems we all think we do. We only have to adjust one thing. Our management.
It's time for us to evolve from using our outdated, reductionist management framework. We need to adapt to a new way of thinking and  apply this paradigm-shifting decision  making framework so that we can all work together towards regenerating our Zimbabwe.
Culturally. Socially. Economically. Environmentally. For for our people and for our wildlife.
Let's start by stopping the blows to the head!
Free to Download Fight the Fire: Green New Deals and Global Climate Jobs
OUT NOW!
"The most compelling and concise guide to averting climate breakdown." – Brendan Montague, editor, The Ecologist.
Download Jonathan Neale's Fight the Fire from The Ecologist for free now.
The Ecologist has published Fight the Fire for free so that it is accessible to all.
We would like to thank our readers for donating £1,000 to cover some of the costs of publishing and promoting this book.
Mobilized TV on Free Speech TV  takes a deep look at our world, the consequences of human activity on our planet, and how we can reverse and prevent existing and future crises from occurring. Mobilized reveals life on our planet as a system of systems which all work together for the optimal health of the whole. The show delves into deep conversations with change-makers so people can clearly take concerted actions.
Produced by Steven Jay and hosted by Jeff Van Treese.
Mobilized's TV series Mobilized TV  premieres on Free Speech TV on Friday, October 15, 2021. All episodes appear:
Fridays 9:30 PM Eastern (USA/Canada)
Saturdays:  6:30 PM (Eastern USA/Canada)
Sundays:  8:30 AM Eastern (USA/Canada)
January 7, 8, 9, 2022
Leading Environmental Justice Attorney, Thomas Linzey of the Center for Democratic and Environmental Rights is a leading force helping communities implement successful rights of nature laws. Find out how your community could take on big business to serve the health of all.