How Google and Search Engine Optimization is Destroying a Perceived Democracy
Are Jews evil? It's not a question I've ever thought of asking. I hadn't gone looking for it. But there it was. I press enter. A page of results appears. This was Google's question. And this was Google's answer: Jews are evil. Because there, on my screen, was the proof: an entire page of results, nine out of 10 of which "confirm" this. The top result, from a site called Listovative, has the headline: "Top 10 Major Reasons Why People Hate Jews." I click on it: "Jews today have taken over marketing, militia, medicinal, technological, media, industrial, cinema challenges etc and continue to face the worlds [sic] envy through unexplained success stories given their inglorious past and vermin like repression all over Europe."
Google is search. It's the verb, to Google. It's what we all do, all the time, whenever we want to know anything. We Google it. The site handles at least 63,000 searches a second, 5.5bn a day. Its mission as a company, the one-line overview that has informed the company since its foundation and is still the banner headline on its corporate website today, is to "organise the world's information and make it universally accessible and useful". It strives to give you the best, most relevant results. And in this instance the third-best, most relevant result to the search query "are Jews… " is a link to an article from stormfront.org, a neo-Nazi website. The fifth is a YouTube video: "Why the Jews are Evil. Why we are against them."
There's one result in the 10 that offers a different point of view. It's a link to a rather dense, scholarly book review from thetabletmag.com, a Jewish magazine, with the unfortunately misleading headline: "Why Literally Everybody In the World Hates Jews."
I feel like I've fallen down a wormhole, entered some parallel universe where black is white, and good is bad. Though later, I think that perhaps what I've actually done is scraped the topsoil off the surface of 2016 and found one of the underground springs that has been quietly nurturing it. It's been there all the time, of course. Just a few keystrokes away… on our laptops, our tablets, our phones. This isn't a secret Nazi cell lurking in the shadows. It's hiding in plain sight.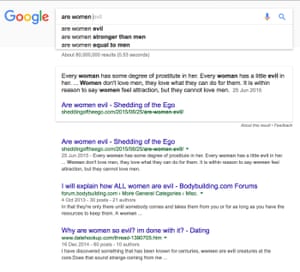 Stories about fake news on Facebook have dominated certain sections of the press for weeks following the American presidential election, but arguably this is even more powerful, more insidious. Frank Pasquale, professor of law at the University of Maryland, and one of the leading academic figures calling for tech companies to be more open and transparent, calls the results "very profound, very troubling".
---
Mobilized is building an empowering constructive solutions-based journalism network from the ground up. While most news is the story of disease and dysfunction, we believe that media can empower, inspire, inform, educate and enable healthier outcomes for us all.
We  are collaborators in creation of better together. 
Stay inspired and Discover how you can get involved with your vision and mission with the Mobilized Network!
---
He came across a similar instance in 2006 when, "If you typed 'Jew' in Google, the first result was jewwatch.org. It was 'look out for these awful Jews who are ruining your life'. And the Anti-Defamation League went after them and so they put an asterisk next to it which said: 'These search results may be disturbing but this is an automated process.' But what you're showing – and I'm very glad you are documenting it and screenshotting it – is that despite the fact they have vastly researched this problem, it has gotten vastly worse."
And ordering of search results does influence people, says Martin Moore, director of the Centre for the Study of Media, Communication and Power at King's College, London, who has written at length on the impact of the big tech companies on our civic and political spheres. "There's large-scale, statistically significant research into the impact of search results on political views. And the way in which you see the results and the types of results you see on the page necessarily has an impact on your perspective." Fake news, he says, has simply "revealed a much bigger problem. These companies are so powerful and so committed to disruption. They thought they were disrupting politics but in a positive way. They hadn't thought about the downsides. These tools offer remarkable empowerment, but there's a dark side to it. It enables people to do very cynical, damaging things."
Google is knowledge. It's where you go to find things out. And evil Jews are just the start of it. There are also evil women. I didn't go looking for them either. This is what I type: "a-r-e w-o-m-e-n". And Google offers me just two choices, the first of which is: "Are women evil?" I press return. Yes, they are. Every one of the 10 results "confirms" that they are, including the top one, from a site called sheddingoftheego.com, which is boxed out and highlighted: "Every woman has some degree of prostitute in her. Every woman has a little evil in her… Women don't love men, they love what they can do for them. It is within reason to say women feel attraction but they cannot love men."
Next I type: "a-r-e m-u-s-l-i-m-s". And Google suggests I should ask: "Are Muslims bad?" And here's what I find out: yes, they are. That's what the top result says and six of the others. Without typing anything else, simply putting the cursor in the search box, Google offers me two new searches and I go for the first, "Islam is bad for society". In the next list of suggestions, I'm offered: "Islam must be destroyed."
Jews are evil. Muslims need to be eradicated. And Hitler? Do you want to know about Hitler? Let's Google it. "Was Hitler bad?" I type. And here's Google's top result: "10 Reasons Why Hitler Was One Of The Good Guys" I click on the link: "He never wanted to kill any Jews"; "he cared about conditions for Jews in the work camps"; "he implemented social and cultural reform." Eight out of the other 10 search results agree: Hitler really wasn't that bad.
A few days later, I talk to Danny Sullivan, the founding editor of SearchEngineLand.com. He's been recommended to me by several academics as one of the most knowledgeable experts on search. Am I just being naive, I ask him? Should I have known this was out there? "No, you're not being naive," he says. "This is awful. It's horrible. It's the equivalent of going into a library and asking a librarian about Judaism and being handed 10 books of hate. Google is doing a horrible, horrible job of delivering answers here. It can and should do better."
He's surprised too. "I thought they stopped offering autocomplete suggestions for religions in 2011." And then he types "are women" into his own computer. "Good lord! That answer at the top. It's a featured result. It's called a "direct answer". This is supposed to be indisputable. It's Google's highest endorsement." That every women has some degree of prostitute in her? "Yes. This is Google's algorithm going terribly wrong."
I contacted Google about its seemingly malfunctioning autocomplete suggestions and received the following response: "Our search results are a reflection of the content across the web. This means that sometimes unpleasant portrayals of sensitive subject matter online can affect what search results appear for a given query. These results don't reflect Google's own opinions or beliefs – as a company, we strongly value a diversity of perspectives, ideas and cultures."
Google isn't just a search engine, of course. Search was the foundation of the company but that was just the beginning. Alphabet, Google's parent company, now has the greatest concentration of artificial intelligence experts in the world. It is expanding into healthcare, transportation, energy. It's able to attract the world's top computer scientists, physicists and engineers. It's bought hundreds of start-ups, including Calico, whose stated mission is to "cure death" and DeepMind, which aims to "solve intelligence".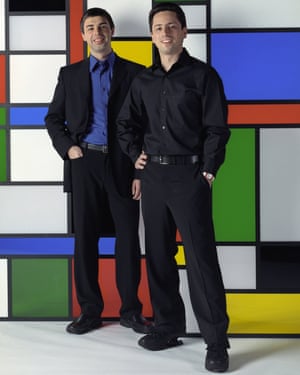 And 20 years ago it didn't even exist. When Tony Blair became prime minister, it wasn't possible to Google him: the search engine had yet to be invented. The company was only founded in 1998 and Facebook didn't appear until 2004. Google's founders Sergey Brin and Larry Page are still only 43. Mark Zuckerberg of Facebook is 32. Everything they've done, the world they've remade, has been done in the blink of an eye.
But it seems the implications about the power and reach of these companies is only now seeping into the public consciousness. I ask Rebecca MacKinnon, director of the Ranking Digital Rights project at the New America Foundation, whether it was the recent furore over fake news that woke people up to the danger of ceding our rights as citizens to corporations. "It's kind of weird right now," she says, "because people are finally saying, 'Gee, Facebook and Google really have a lot of power' like it's this big revelation. And it's like, 'D'oh.'"
MacKinnon has a particular expertise in how authoritarian governments adapt to the internet and bend it to their purposes. "China and Russia are a cautionary tale for us. I think what happens is that it goes back and forth. So during the Arab spring, it seemed like the good guys were further ahead. And now it seems like the bad guys are. Pro-democracy activists are using the internet more than ever but at the same time, the adversary has gotten so much more skilled."
"They have created a web that is bleeding through on to our web. This isn't a conspiracy. There isn't one person who's created this. It's a vast system of hundreds of different sites that are using all the same tricks that all websites use. They're sending out thousands of links to other sites and together this has created a vast satellite system of rightwing news and propaganda that has completely surrounded the mainstream media system.
He found 23,000 pages and 1.3m hyperlinks. "And Facebook is just the amplification device. When you look at it in 3D, it actually looks like a virus. And Facebook was just one of the hosts for the virus that helps it spread faster. You can see the New York Times in there and the Washington Post and then you can see how there's a vast, vast network surrounding them. The best way of describing it is as an ecosystem. This really goes way beyond individual sites or individual stories. What this map shows is the distribution network and you can see that it's surrounding and actually choking the mainstream news ecosystem."
Like a cancer? "Like an organism that is growing and getting stronger all the time."
Charlie Beckett, a professor in the school of media and communications at LSE, tells me: "We've been arguing for some time now that plurality of news media is good. Diversity is good. Critiquing the mainstream media is good. But now… it's gone wildly out of control. What Jonathan Albright's research has shown is that this isn't a byproduct of the internet. And it's not even being done for commercial reasons. It's motivated by ideology, by people who are quite deliberately trying to destabilise the internet."
Albright's map also provides a clue to understanding the Google search results I found. What these rightwing news sites have done, he explains, is what most commercial websites try to do. They try to find the tricks that will move them up Google's PageRank system. They try and "game" the algorithm. And what his map shows is how well they're doing that.
"It's an information war," says Albright. "That's what I keep coming back to."
But it's where it goes from here that's truly frightening. I ask him how it can be stopped. "I don't know. I'm not sure it can be. It's a network. It's far more powerful than any one actor."
So, it's almost got a life of its own? "Yes, and it's learning. Every day, it's getting stronger."
The more people who search for information about Jews, the more people will see links to hate sites, and the more they click on those links (very few people click on to the second page of results) the more traffic the sites will get, the more links they will accrue and the more authoritative they will appear. This is an entirely circular knowledge economy that has only one outcome: an amplification of the message. Jews are evil. Women are evil. Islam must be destroyed. Hitler was one of the good guys.
And the constellation of websites that Albright found – a sort of shadow internet – has another function. More than just spreading rightwing ideology, they are being used to track and monitor and influence anyone who comes across their content. "I scraped the trackers on these sites and I was absolutely dumbfounded. Every time someone likes one of these posts on Facebook or visits one of these websites, the scripts are then following you around the web. And this enables data-mining and influencing companies like Cambridge Analytica to precisely target individuals, to follow them around the web, and to send them highly personalised political messages. This is a propaganda machine. It's targeting people individually to recruit them to an idea. It's a level of social engineering that I've never seen before. They're capturing people and then keeping them on an emotional leash and never letting them go."
Cambridge Analytica, an American-owned company based in London, was employed by both the Vote Leave campaign and the Trump campaign. Dominic Cummings, the campaign director of Vote Leave, has made few public announcements since the Brexit referendum but he did say this: "If you want to make big improvements in communication, my advice is – hire physicists."
Steve Bannon, founder of Breitbart News and the newly appointed chief strategist to Trump, is on Cambridge Analytica's board and it has emerged that the company is in talks to undertake political messaging work for the Trump administration. It claims to have built psychological profiles using 5,000 separate pieces of data on 220 million American voters. It knows their quirks and nuances and daily habits and can target them individually.
"It's all done completely opaquely and they can spend as much money as they like on particular locations because you can focus on a five-mile radius or even a single demographic. Fake news is important but it's only one part of it. These companies have found a way of transgressing 150 years of legislation that we've developed to make elections fair and open."
Did such micro-targeted propaganda – currently legal – swing the Brexit vote? We have no way of knowing. Did the same methods used by Cambridge Analytica help Trump to victory? Again, we have no way of knowing. This is all happening in complete darkness. We have no way of knowing how our personal data is being mined and used to influence us. We don't realise that the Facebook page we are looking at, the Google page, the ads that we are seeing, the search results we are using, are all being personalised to us. We don't see it because we have nothing to compare it to. And it is not being monitored or recorded. It is not being regulated. We are inside a machine and we simply have no way of seeing the controls. Most of the time, we don't even realise that there are controls.
But we don't know what choices they are making. Neither Google or Facebook make their algorithms public. Why did my Google search return nine out of 10 search results that claim Jews are evil? We don't know and we have no way of knowing. Their systems are what Frank Pasquale describes as "black boxes". He calls Google and Facebook "a terrifying duopoly of power" and has been leading a growing movement of academics who are calling for "algorithmic accountability". "We need to have regular audits of these systems," he says. "We need people in these companies to be accountable. In the US, under the Digital Millennium Copyright Act, every company has to have a spokesman you can reach. And this is what needs to happen. They need to respond to complaints about hate speech, about bias."
Is bias built into the system? Does it affect the kind of results that I was seeing? "There's all sorts of bias about what counts as a legitimate source of information and how that's weighted. There's enormous commercial bias. And when you look at the personnel, they are young, white and perhaps Asian, but not black or Hispanic and they are overwhelmingly men. The worldview of young wealthy white men informs all these judgments."
Later, I speak to Robert Epstein, a research psychologist at the American Institute for Behavioural Research and Technology, and the author of the study that Martin Moore told me about (and that Google has publicly criticised), showing how search-rank results affect voting patterns. On the other end of the phone, he repeats one of the searches I did. He types "do blacks…" into Google.
"Look at that. I haven't even hit a button and it's automatically populated the page with answers to the query: 'Do blacks commit more crimes?' And look, I could have been going to ask all sorts of questions. 'Do blacks excel at sports', or anything. And it's only given me two choices and these aren't simply search-based or the most searched terms right now. Google used to use that but now they use an algorithm that looks at other things. Now, let me look at Bing and Yahoo. I'm on Yahoo and I have 10 suggestions, not one of which is 'Do black people commit more crime?'
"And people don't question this. Google isn't just offering a suggestion. This is a negative suggestion and we know that negative suggestions depending on lots of things can draw between five and 15 more clicks. And this all programmed. And it could be programmed differently."
What Epstein's work has shown is that the contents of a page of search results can influence people's views and opinions. The type and order of search rankings was shown to influence voters in India in double-blind trials. There were similar results relating to the search suggestions you are offered.
"The general public are completely in the dark about very fundamental issues regarding online search and influence. We are talking about the most powerful mind-control machine ever invented in the history of the human race. And people don't even notice it."
Damien Tambini, an associate professor at the London School of Economics, who focuses on media regulation, says that we lack any sort of framework to deal with the potential impact of these companies on the democratic process. "We have structures that deal with powerful media corporations. We have competition laws. But these companies are not being held responsible. There are no powers to get Google or Facebook to disclose anything. There's an editorial function to Google and Facebook but it's being done by sophisticated algorithms. They say it's machines not editors. But that's simply a mechanised editorial function."
And the companies, says John Naughton, the Observer columnist and a senior research fellow at Cambridge University, are terrified of acquiring editorial responsibilities they don't want. "Though they can and regularly do tweak the results in all sorts of ways."
Certainly the results about Google on Google don't seem entirely neutral. Google "Is Google racist?" and the featured result – the Google answer boxed out at the top of the page – is quite clear: no. It is not.
But the enormity and complexity of having two global companies of a kind we have never seen before influencing so many areas of our lives is such, says Naughton, that "we don't even have the mental apparatus to even know what the problems are".
And this is especially true of the future. Google and Facebook are at the forefront of AI. They are going to own the future. And the rest of us can barely start to frame the sorts of questions we ought to be asking. "Politicians don't think long term. And corporations don't think long term because they're focused on the next quarterly results and that's what makes Google and Facebook interesting and different. They are absolutely thinking long term. They have the resources, the money, and the ambition to do whatever they want.
"The internet is among the few things that humans have built that they don't understand." It is "the largest experiment involving anarchy in history. Hundreds of millions of people are, each minute, creating and consuming an untold amount of digital content in an online world that is not truly bound by terrestrial laws." The internet as a lawless anarchic state? A massive human experiment with no checks and balances and untold potential consequences? What kind of digital doom-mongerer would say such a thing? Step forward, Eric Schmidt – Google's chairman. They are the first lines of the book, The New Digital Age, that he wrote with Jared Cohen.
We don't understand it. It is not bound by terrestrial laws. And it's in the hands of two massive, all-powerful corporations. It's their experiment, not ours. The technology that was supposed to set us free may well have helped Trump to power, or covertly helped swing votes for Brexit. It has created a vast network of propaganda that has encroached like a cancer across the entire internet. This is a technology that has enabled the likes of Cambridge Analytica to create political messages uniquely tailored to you. They understand your emotional responses and how to trigger them. They know your likes, dislikes, where you live, what you eat, what makes you laugh, what makes you cry.
And what next? Rebecca MacKinnon's research has shown how authoritarian regimes reshape the internet for their own purposes. Is that what's going to happen with Silicon Valley and Trump? As Martin Moore points out, the president-elect claimed that Apple chief executive Tim Cook called to congratulate him soon after his election victory. "And there will undoubtedly be be pressure on them to collaborate," says Moore.
Journalism is failing in the face of such change and is only going to fail further. New platforms have put a bomb under the financial model – advertising – resources are shrinking, traffic is increasingly dependent on them, and publishers have no access, no insight at all, into what these platforms are doing in their headquarters, their labs. And now they are moving beyond the digital world into the physical. The next frontiers are healthcare, transportation, energy. And just as Google is a near-monopoly for search, its ambition to own and control the physical infrastructure of our lives is what's coming next. It already owns our data and with it our identity. What will it mean when it moves into all the other areas of our lives?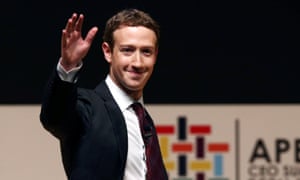 "At the moment, there's a distance when you Google 'Jews are' and get 'Jews are evil'," says Julia Powles, a researcher at Cambridge on technology and law. "But when you move into the physical realm, and these concepts become part of the tools being deployed when you navigate around your city or influence how people are employed, I think that has really pernicious consequences."
Powles is shortly to publish a paper looking at DeepMind's relationship with the NHS. "A year ago, 2 million Londoners' NHS health records were handed over to DeepMind. And there was complete silence from politicians, from regulators, from anyone in a position of power. This is a company without any healthcare experience being given unprecedented access into the NHS and it took seven months to even know that they had the data. And that took investigative journalism to find it out."
The headline was that DeepMind was going to work with the NHS to develop an app that would provide early warning for sufferers of kidney disease. And it is, but DeepMind's ambitions – "to solve intelligence" – goes way beyond that. The entire history of 2 million NHS patients is, for artificial intelligence researchers, a treasure trove. And, their entry into the NHS – providing useful services in exchange for our personal data – is another massive step in their power and influence in every part of our lives.
Because the stage beyond search is prediction. Google wants to know what you want before you know yourself. "That's the next stage," says Martin Moore. "We talk about the omniscience of these tech giants, but that omniscience takes a huge step forward again if they are able to predict. And that's where they want to go. To predict diseases in health. It's really, really problematic."
For the nearly 20 years that Google has been in existence, our view of the company has been inflected by the youth and liberal outlook of its founders. Ditto Facebook, whose mission, Zuckberg said, was not to be "a company. It was built to accomplish a social mission to make the world more open and connected."
It would be interesting to know how he thinks that's working out. Donald Trump is connecting through exactly the same technology platforms that supposedly helped fuel the Arab spring; connecting to racists and xenophobes. And Facebook and Google are amplifying and spreading that message. And us too – the mainstream media. Our outrage is just another node on Jonathan Albright's data map.
"The more we argue with them, the more they know about us," he says. "It all feeds into a circular system. What we're seeing here is new era of network propaganda."
We are all points on that map. And our complicity, our credulity, being consumers not concerned citizens, is an essential part of that process. And what happens next is down to us. "I would say that everybody has been really naive and we need to reset ourselves to a much more cynical place and proceed on that basis," is Rebecca MacKinnon's advice. "There is no doubt that where we are now is a very bad place. But it's we as a society who have jointly created this problem. And if we want to get to a better place, when it comes to having an information ecosystem that serves human rights and democracy instead of destroying it, we have to share responsibility for that."
Are Jews evil? How do you want that question answered? This is our internet. Not Google's. Not Facebook's. Not rightwing propagandists. And we're the only ones who can reclaim it.
Source: The Guardian, UK
The World Unites for World Ecologic Forum on December 10
"Our duty, as men and women, is to proceed as if limits to our ability did not exist. We are collaborators in creation."
― Pierre Teilhard de Chardin
---
Over the course of the past 200 years, man-made policies, systems and services have destroyed what it has taken mother nature billions of years to create.  It is time to
GET THE EGO OUT OF THE ECO
December 10th is the Anniversary of a little known but highly important document, The Universal Declaration of Human Rights.
Created initially as a response to the atrocities of World War II by Eleanor Roosevelt and signed–but not honored–by many nations of the world, this document, combined with the United Nations 17 Sustainable Development Goals, outlines what's possible when the world systems work harmoniously together.
But it takes more than just ideas or talk. It takes Action:
Introducing Mobilized, an ideas-into-action Social Action Communication Network.
Through a series of action-oriented Mobilized events, we focus on evidence-based wisdom, the obstacles we are faced with, and ways of overcoming these obstacles.
We invite communities of social organizations and initiatives, social entrepreneurs and media makers and producers into conversations of uniting possibility and evidence-based wisdom. By embracing the evidence-based wisdom of root causes of existing problems, we empower possibility thinking and imagination to discover how working together, communities and initiatives and public action can enable better outcomes and deeper impact
Inspired by nature and powered by passionate people.
Imagine collaborating on shared wisdom across borders, learning from the experts who have been there and done that and continue to do the amazing, empowering and enabling the inner Einstein that's found in all of us.
During the next two months, Mobilized will be inviting organizations such as yours into a virtual ecosystem of possibility as we learn from one another, overcome misunderstandings and create better ways of working better together. Discover the Mobilized Smarter Conversation Schedule here
We're not waiting for the future. We're building it together. Please join us on our collective journey for a brighter tomorrow, today.
Mobilized for the Public
Dedicated to creating a more engaged and interactive experience. more engaging and interactive. Without ever leaving their desks, participants can learn from video presentations, interact with sponsors and communicate with peers using professional networking tools.
What can I anticipate?
Live and fully participatory from the comfort of your couch or office, you're going to dive right into powerfully productive conversations that provide a detailed idea of how we, the people can collaboratively create communities without compromising the health of our ecosystem.
It's what you want, the way you want it, when you want it, live and on Demand.
Whether it's the story of a new development in sustainable sourcing or a better way to practice distribution,  we make sure that the experience is enjoyable, hospitable and fully dedicated to advancing the cause of your needs no matter where in the world you live and work.
No travel. No headaches. No aggravation. No Kidding.
Utilizing the very best virtual tools, we make sure that your experience is dedicated to the very best outcome possible.  Afterall, your future is in Your hands. You know you want it.
What about the panels, seminars, keynotes and experience?
It's the ongoing experience, the show that never ends, the live conference transformed for productivity, efficiency and service.  It's the on-going conversations that take part long-after the live event is over. Finally, an experience dedicated to your needs.   Because  It's the show that never ends, the conversation that lasts long after the doors close; the interactive experience that keeps on going long after you arrive.
Access for all, fully translatable into a multitude of languages.
Notes on 9-11, twenty years later.
This is the anniversary of a dark day in our country's history.  It has also been totally eclipsed by the utterly horrifying death toll from a preventable virus.  So much so, that after this year I doubt anybody will be putting much emphasis on 9/11 anymore.  Too many folks are mourning their current lost loved ones to spend heaps of time on those of a generation ago.
I wanted to start this essay with "I told you so."  It sure would have felt good, too; 20 years after warning y'all about the mistake of going to war to avenge a violent terror attack.  Who the hell would read that article though?  Nobody.
Nobody likes to be told they are wrong, least of all 'Muricans.
We don't.  We blew it on Viet Nam.  But then we spent the next two decades fellating ourselves with Rambo movies and Reagan and other such exciting fictions.  So when 9/11 occured, we were 100% ready and willing and able to make the same mistake again.  Then – – our short-attention span made it so that we turned away from the Afghan rebuilding project to double down and invade Iraq.  (I decried that invason too, to no avail).
We then whipped up some fancy 'mission accomplished' banners and photo ops, and… spent the next 19 years waiting to be greeted as liberators.  August of 2021 may have finally put that delusion to bed.  Somehow, I don't think so.
I hate being Cassandra.  I do.  Nobody wants to hear the unvarnished truth, that much is clear.  But why?  How is it we would rather keep suffering, and keep on making other nations suffer; instead of doing the simple, basic work to fix the problems once and for all?  *This* question has become my life's work.
There are solutions, by the way.  Never ever let anyone tell you these problems cannot be fixed.  Those folks are selling you something; and are not to be trusted.  We could never have built civilization in the first place, if we did not have solutions available for getting people to co-exist, within community.
So forget all about 'I told you so', and forget about who's fault it is that we are in such a mess.  Focus your precious time on learning about solutions.  I have close to 20 essays up on mobilized.news now, and plenty of others have stuff posted here too.  That's one possible place to start learning if you need resources.  For the busier or more skeptical among us, here (below) are some short takes that may be of use.
I am sorry that we're still suffering.  Maybe I haven't done enough to help relieve that suffering.  Maybe I can do more.  But it's not about me, and it's not about you.  It's about the future. It really can be as bright as we want it to be.  Our biggest hurdle to overcome is simply inertia –  – and that's a choice we make every day.
Simply change your mind, decide to find a new model to live within.  Better days lie ahead.
---
Further Reading: 
https://www.mcsweeneys.net/articles/welcoming-remarks-made-at-a-literary-reading-9-25-01?
Daniel Quinn shared this insight with us: Most folks would say that "the world was made for Man, and Man was made to conquer it."  But of course that is just mythology, nothing about it is true.  It's far more accurate to say that "the world is a sacred place and a sacred process – – and we are part of it."  Our fundamental mis-understanding of how the world works is the key to knowing why we keep going on foolish crusades overseas, why we keep destroying the climate even though we know better, and so many other maladies.  It's time to change those habits.
I often recommend this book, and do so again today because it's more relevant NOW than ever before.  "Beyond Civilization" by Daniel Quinn.  See also: "Providence", and the 3 "Ishmael" novels… which would make one hell of a great miniseries, if there are any TeeVee producers reading this post.
Speaking of 'more relevant than ever', Bucky Fuller's classic book-length essay Grunch of Giants came out in 1970 for crying out loud; it's too bad we've never taken his wise advice.
https://mobilized.news/bite-sized-book-reviews/
https://mobilized.news/bite-sized-book-reviews-ii-electric-boogaloo/
Here let us read in their own words, some post-war thoughts from a selection of unindicted war criminals.  They only barely register any remorse, and sure are twisting themselves in knots to justify their murderous idiocy.  NOTABLY ABSENT IN THESE INTERVIEWS: THE POINT OF VIEW OF ANYBODY AT ALL WHO WARNED AGAINST THE INVASIONS BEFORE HAND.  Such as Barbara Lee, Arundhati Roy, Naomi Klein, Medea Benjamin, or any of the Gold Star Mothers.  Funny how the media is falling over themselves to ask the guilty how they feel about being guilty.  It's too damn bad the media doesn't truly want to prevent future mistakes since that would be bad for their ratings.  Le sigh.
https://www.politico.com/news/magazine/2021/09/10/9-11-attacks-20th-anniversary-reassessing-20-years-of-war-506924
For a more rational change of pace, this journalist ignored the fatuous glad-handers who lied us into war and instead talked to the soldiers on the ground.  If you're in a hurry, skip the last entry and just read this one.
https://www.politico.com/news/magazine/2021/09/10/politico-mag-afghan-vets-roundtable-506989
Here I offer a hat tip to my friend Alice Shikina, who has pointed me towards a far better means of conflict resolution – guided mediation & arbitration.  Groups such as SEEDS exist here in the Bay Area and similar ones are in most any big city near you.  We don't have to spend our precious time being angry, or blaming the 'other guy'.  We can instead work on listening and finding common ground.  There WAS common ground to be had with the Afghan people, for example, but we never once tried to find it.  We simply imposed a top-down model on them and then, were puzzled why they despised it.  What a huge missed opportunity.  Don't you make that same mistake.  Check out the better options that are available and cost almost nothing to implement.
https://www.seedscrc.org/
www.cnvc.org
Rethinking Climate Change Solutions
The climate emergency requires climate solutions. And fast! There are lots of different proposals floating around – some of which don't even exist yet, and probably never will. So, it's easy to get confused about which direction is best. Now though, a new analysis suggests that 90% of the job could be achieved by just a handful of disruptive technologies that are very real indeed, and are already either disrupting their markets or are poised to do so. We just need to choose to embrace them!
One of the most fascinating and exhilirating writings comes from the team at Rethink X which states:
We are on the cusp of the fastest, deepest, most consequential transformation of human civilization in history, a transformation every bit as significant as the move from foraging to cities and agriculture 10,000 years ago.
During the 2020s, key technologies will converge to completely disrupt the five foundational sectors that underpin the global economy, and with them every major industry in the world today. The knock-on effects for society will be as profound as the extraordinary possibilities that emerge.
In information, energy, food, transportation, and materials, costs will fall by 10x or more, while production processes an order of magnitude (10x) more efficient will use 90% fewer natural resources with 10x-100x less waste. The prevailing production system will shift away from a model of centralized extraction and the breakdown of scarce resources that requires vast physical scale and reach, to a model of localized creation from limitless, ubiquitous building blocks – a world built not on coal, oil, steel, livestock, and concrete but on photons, electrons, DNA, molecules and (q)bits. Product design and development will be performed collaboratively over information networks while physical production and distribution will be fulfilled locally. As a result, geographic advantage will be eliminated as every city or region becomes self-sufficient. This new creation-based production system, which will be built on technologies we are already using today, will be far more equitable, robust, and resilient than any we have ever seen. We have the opportunity to move from a world of extraction to one of creation, a world of scarcity to one of plenitude, a world of inequity and predatory competition to one of shared prosperity and collaboration.
This is not, then, another Industrial Revolution, but a far more fundamental shift. This is the beginning of the third age of humankind – the Age of Freedom.
The possibilities that open up in this new age are truly extraordinary. Within 10-15 years, everyone on the planet could have access to the 'American Dream' for a few hundred dollars a month. For the first time in history, poverty could be overcome easily. Access to all our basic needs – food, energy, transportation, information, and shelter – could become a fundamental human right. Armed conflict, often driven by the need to access and control scarce resources, could become largely unnecessary. Climate change and environmental degradation, caused by production processes that take no account of the destruction they wreak on the natural world, could be overcome by a new production system delivering zero-carbon energy, transportation, and food with marginal waste. This could allow us to restore the integrity of the planet's natural systems and help mitigate the impact of our unsustainable actions on human health. We may, ultimately, be able to escape toil and drudgery entirely and, for the first time in history, achieve real freedom – the freedom to spend our time creatively, unburdened by financial precariousness and the need to provide for ourselves and our families. Never before has humanity seen such an astonishing array of possibilities opened up in such a short period of time.
But this future is by no means predetermined. Indeed it cannot be achieved by technological progress alone. History indicates that leading civilizations have evolved ever-greater organizational capabilities in tandem with increased technological capabilities. While the technological capabilities dictate the potential of any civilization, the Organizing System determines how close to this potential a society can get. The Organizing System encompasses both the fundamental beliefs, institutions, and reward systems that enable optimal decisions to be taken across a society, and the structures that manage, control, govern, and influence its population. The best combination of technology and Organizing System that is available dictates the winners – for example a city of 10,000 people, such as Sumer, requires very different Organizing System from one of a million people, such as Rome.
Throughout history, 10x advancements in the five foundational sectors have driven the emergence of a new and vastly more capable civilization than any which has come before. But this has only been possible when combined with vastly improved organizational capabilities. This has always represented a formidable challenge for incumbents, and the lessons of history are sobering – every leading civilization, from Catalhoyuk and Sumer to Babylonia and Rome, has fallen as it reached the limits of its ability to organize society and solve the problems created by its production system. When these civilizations were threatened with collapse, they looked backwards and attempted to recapture the glory days by patching up their production system and doubling down on their Organizing System rather than adapting. The result was descent into a dark age.
Today, our incumbent leadership in government and industry are making the same mistake. The patterns of history are clear. The five foundational sectors, which gave rise to Western dominance starting with Europe in the 1500s and America in the 1900s, will all collapse during the 2020s. These sector disruptions are bookends to a civilization that birthed the Industrial Order, which both built the modern world and destroyed the rest. Furthermore, we are experiencing rising inequality, extremism, and populism, the deterioration of decision-making processes and the undermining of representative democracy, the accumulation of financial instability as we mortgage the future to pay for the present, ecological degradation, and climate change – all signs that our civilization has reached and breached its limits. The response from today's incumbents to these challenges – more centralization, more extraction, more exploitation, more compromise of public health and environmental integrity in the name of competitive advantage and growth – is no less desperate than the response from those of prior civilizations who called for more walls, more priests, and more blood sacrifices as they faced collapse.
And this is just the beginning – as new technologies develop apace, their disruptive power will only grow stronger. Ironically, the same technologies that hold the promise of solving our most pressing problems are also accelerating collapse, challenging the ability of our outdated and increasingly incompatible Organizing System to function.
Indeed we are already seeing the impact of the new, creation-based production system butting up against our increasingly antiquated Organizing System. The information sector, for example, has already been disrupted. Centralized content production with high costs, high barriers to entry, and narrow distribution channels has given way to billions of producer-consumers generating content at near-zero cost with minimal barriers to entry across a globally-connected network. Alongside the extraordinary benefits it has brought, this emerging production system has also created novel problems which our Organizing System is incapable of understanding or managing. A few computer hackers in an apartment in one country can hijack another's governance processes, spread false narratives, polarize public opinion, paralyze decision-making processes, and help enable regime change home and abroad. Individual nations are no longer able to manage the narrative or control the flow of information. The upcoming disruptions that will unfold simultaneously in the energy, food, transportation, and materials sectors during the 2020s will present further unprecedented new challenges at the same time as solving old problems.
The choice, therefore, is stark – collapse into a new dark age or move to a new Organizing System that allows us to flourish in a new Age of Freedom. Such a move will not be easy – we will need to rethink not just the structures and institutions that manage society, but the very concepts they are built on. Representative democracy, capitalism, and nation states may seem like fundamental truths but they are, in fact, merely human constructs that emerged and evolved in an industrial Organizing System. In the new age, they may well become redundant.
For the first time in history, we have not just the technological tools to make an incredible leap in societal capabilities, but the understanding and foresight to see what is coming. We have the choice, therefore, to avert disaster or not. We can choose to elevate humanity to new heights and use the upcoming convergence of technology disruptions to end poverty, inequality, resource conflict, and environmental destruction, all for a fraction of the cost we incur dealing with them today. Or we can choose to preserve the failing status quo and descend into another dark age like every leading civilization before us.
Dark ages do not occur for lack of sunshine, but for lack of leadership. The established centers of power, the U.S., Europe, or China, handicapped by incumbent mindsets, beliefs, interests, and institutions, are unlikely to lead. In a globally competitive world, smaller, hungrier, more adaptable communities, cities, or states such as Israel, Mumbai, Dubai, Singapore, Lagos, Shanghai, California, or Seattle are more likely to develop a winning Organizing System. They will appear, just like their predecessors, as if from nowhere, with capabilities far beyond those of incumbent leaders. Everyone else could get trampled before they have time to understand what is happening.
The intervening decade will be turbulent, destabilized both by technology disruptions that upend the foundations of the global economy and by system shocks from pandemics, geopolitical conflict, natural disasters, financial crises, and social unrest that could lead to dramatic tipping points for humanity including mass migrations and even war. In the face of each new crisis we will be tempted to look backward rather than forward, to mistake ideology and dogma for reason and wisdom, to turn on each other instead of trusting one another.
If we hold strong, we can emerge together to create the wealthiest, healthiest, most extraordinary civilization in history. If we do not, we will join the ranks of every other failed civilization for future historians to puzzle over. Our children will either thank us for bringing them an Age of Freedom, or curse us for condemning them to another dark age. The choice is ours.