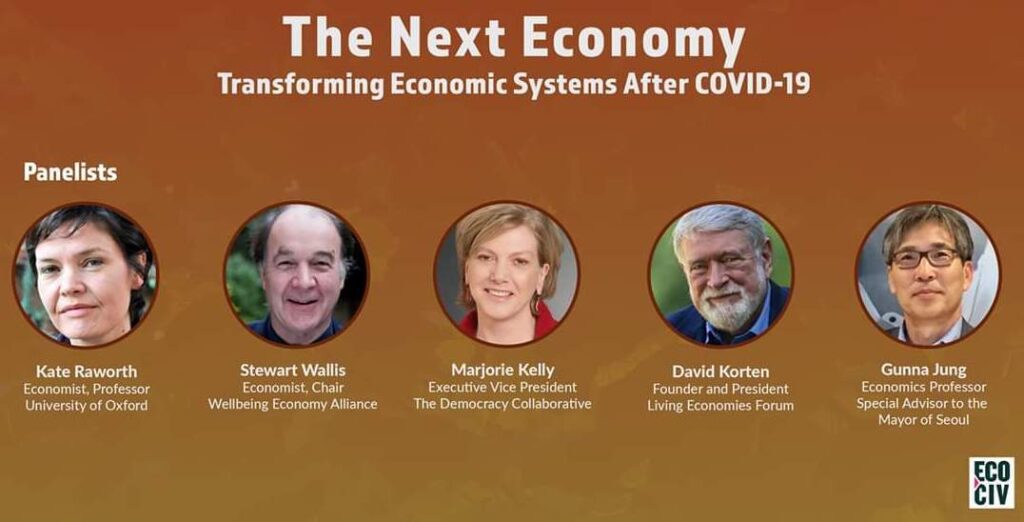 As the socio-economic effects of coronavirus worsen, the deep failures of our global economic order are being revealed. Is this the end of the neoliberal era? What will the economy look like after COVID-19? Can our next economy promote the overall well-being of people and the planet? On this episode of the EcoCiv podcast, Andrew Schwartz moderates a virtual panel with experts from around the world to discuss the possibilities for shifting toward an economy of mutual well-being and planetary flourishing. The five panel participants include economists Kate Raworth and Stewart Wallis, economics professor Gunna Jung, author and activist David Korten, and the executive vice president of The Democracy Collaborative, Marjorie Kelly.
If you enjoy this podcast and value the many other projects that EcoCiv is engaged in, please consider making a donation at ecociv.org/donate.
You can listen to this episode by subscribing to the show through many popular podcast apps.
Music Credit: "lax" by Fascinating Earthbound Objects
License//Song Link